Beleaguered head of NYC prisons retires early amid scandals
Published time: 12 May, 2017 22:28
Edited time: 13 May, 2017 11:27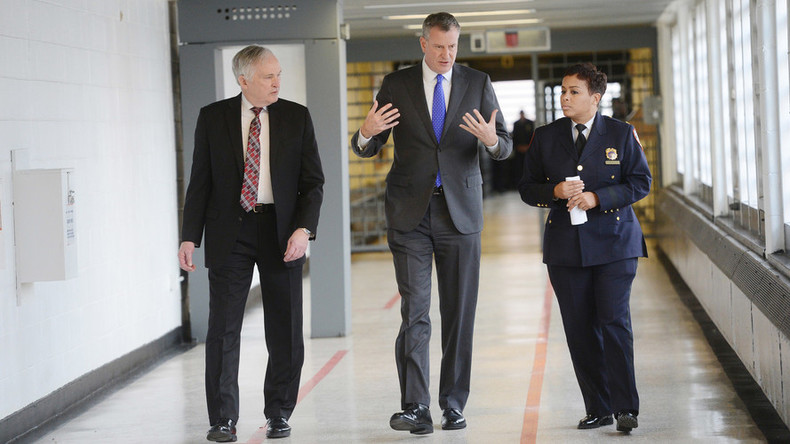 The head of New York City's embattled jails has resigned following a series of scandals. While Mayor Bill de Blasio praised Joseph Ponte for instituting "sweeping reforms," critics say he did little to stem violence and corruption at the Rikers Island complex.
Ponte, the Department of Corrections (DOC) commissioner, announced his retirement on Friday. He was not expected to retire for several more months, but decided that the scandals had become too much of a distraction for him to remain on the job, the New York Times reported.
"I am happy to have spent the last chapter of my career in New York City," he said in a statement. "It was a privilege to work with the men and women of the Department as we reduced violence and the overuse of punitive segregation, brought on 3,700 new officers, re-trained a large part of the staff, added thousands of security cameras, and provided new opportunities for education and training for inmates, among many other initiatives."
De Blasio praised Ponte's three-year tenure at the DOC.
"Joe Ponte has spent his life reforming jails," he said in a statement. "New York City owes a debt of gratitude to Commissioner Ponte for his tireless efforts to change the culture and improve the effectiveness of one of the nation's most challenging jail systems."
Council member Elizabeth Crowley, who chairs the committee that oversees the city's jail system, had been calling for Ponte's resignation since last year. She said he was doing little to reform Rikers, the city's infamous main jail complex and one of the three largest prison complexes in the US by population.
"Reform must start at the top, and that means with the agency's commissioner," she said on Friday. "Commissioner Joseph Ponte had three years to make city jails safer, yet violence continues to climb despite millions of city dollars for reforms and resources."
Ponte, 70, had been at the center of two recent misconduct probes by the city's Department of Investigation (DOI).
Two weeks ago, the DOI found that Ponte and 20 other top DOC had misused their government cars, forcing taxpayers to foot the bill for personal trips that were prohibited by city and DOC policies.
Ponte repeatedly drove his city-issued car to Maine, the DOI probe found, racking up 18,000 miles and forcing the city to spend more than $1,500 in gas and tolls. He also spent over 90 days outside of New York in 2015, including 35 weekdays, according to the report. He only used personal leave for six of those days.
While he was out of state, there were 27 inmate-on-inmate stabbings, three officers slashed, the on-duty death of a staff member, an inmate death and an escape, the New York Daily News reported.
The results of the investigation didn't bother de Blasio, however.
"I am so convinced that this obsession with the vehicles is missing the facts," he said at a news conference. "I believe a mistake was made. I believe human beings make mistakes. He will pay for every mile and every gallon of gas, and any other disciplinary action. I'm just not going to fixate on this."
Last week, the DOI released the results of a second investigation, accusing Gregory Kuczinski, the deputy commissioner for the Investigation Division and Correction Intelligence Bureau, of directing corrections officials to surveil phone calls between DOI investigators and inmates working as informants.
Kuczinski's orders came "immediately after he and other senior staff were informed that DOI was preparing a report on their improper use of vehicles," the report said.
Although DOI Commissioner Mark Peterse called for Kuczinski to be fired, he has merely been relieved of his investigation and call-monitoring responsibilities. De Blasio called the allegations "serious and troubling," and said at the time that his office would work with both the DOI and the DOC to "determine what happened and what changes must occur to ensure that it doesn't happen again," WNBC reported.
De Blasio said the city's jails "are safer" since Ponte took charge in April 2014, even though statistics have shown that the rate of assaults against corrections officers and among inmates has increased during his tenure.
"I think this agency (under Ponte) has done extraordinary work with dealing with decades of mistakes that they inherited," de Blasio told WNYC. "So, he has my confidence and I think he's done really good work for this city."
Ponte is a Marine Corps veteran whose corrections career spanned more than four decades. Before New York, he previously overhauled the prisons in seven states, including his last post as head of the Maine Department of Corrections. In the Big Apple, he earned nearly $215,000 a year.