Rikers prison gets $1.2mn military weapons upgrade, incl. Tasers, Kel-Tec shotguns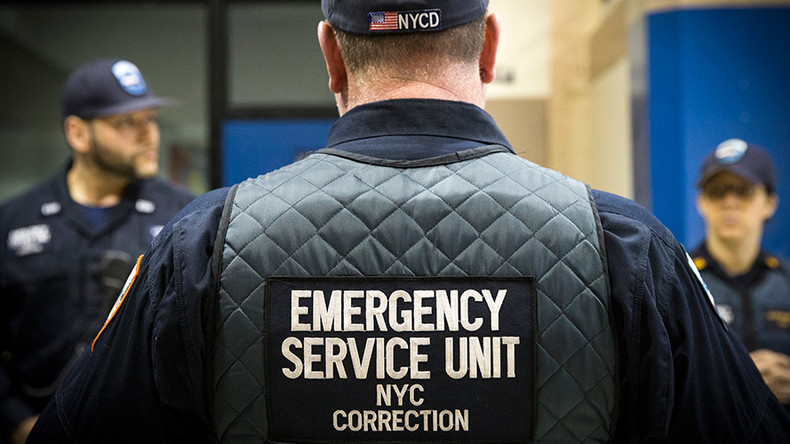 New York's Rikers Island prison has a bleak reputation for excessive use of force, inmate deaths, overcrowding and corruption. Militarization may soon be added to the mix, with weapons like the Kel-Tec shotgun being considered for elite jail captains.
The New York City Department of Correction is said to be contemplating the purchase of military-level weapons for a crack team of 32 specially trained jail captains at Rikers Island, according to the New York Daily News.
Under the plan, captains will be able to Taser inmates "who are actively physically resisting or exhibiting physical aggression," and fire the Tasers to "prevent persons from physically injuring themselves," as well as use the weapon to "prevent incidents from escalating to the level where deadly force is required," according to a 16-page directive obtained by the newspaper.
The contract also includes training guards in how to use Kel-Tec rubber pellet-firing shotguns, according to the New York Post. The Kel-Tec shotgun holds 12 rounds of 12-gauge shells.
The instruction will be handled by the US Corrections Special Operations Group (US C-SOG). The Virginia-based firm was awarded a $1.2 million contract in March by the state's corrections department.
Since 2015, US C-SOG has been providing "enhanced security to all the correctional facilities in Maine," including occupying an 80-bed unit for training purpose at the overcrowded Maine State Prison. There they are "dressed in tactical gear, accompanied by trained dogs, and carrying Kel-Tec shotguns loaded with less-than-lethal rounds," according to The Courier Gazette.
James Manley, an inmate, told the Courier Gazette that US C-SOG officers intimidated prisoners by clicking the safety of their weapons on and off while talking to them, and making them lie on the ground with their hands behind their heads while the officers walked past, searching their cells. He said that before, "guards were armed only with pepper spray."
Inmates advocates said the added weaponry will just lead to further violence.
"Considering the decades long culture of violence on Rikers, some of it perpetuated by [Correction Department] staff, it's appalling that Mayor de Blasio and Commissioner Ponte would invest in tools that have been shown to cause death, rather than expanding de-escalation training for Rikers staff," Glenn Martin, founder of JustLeadershipUSA, a group advocating for the shutdown of Rikers Island, told the Daily News.
A Taser is an electroshock weapon that fires two small dart-like electrodes towards a person, delivering an electric current to disrupt voluntary control of muscles. The weapon can also deliver a "DriveStun" charge when applied directly to the body, which causes pain but does not incapacitate the subject.
Taser International claims the weapons do not inflict pain, and describes those critical of the weapon as "out of touch" with the needs of modern policing.
"Pepper spray goes on for hours and hours, hitting someone with a baton breaks limbs, shooting someone with a firearm causes permanent damage, even punching and kicking—the intent of those tools is to inflict pain, ... with the Taser, the intent is not to inflict pain; it's to end the confrontation. When it's over, it's over," Taser Chairman Tom Smith told the Australian Broadcasting Corporation in 2007.
But the Taser gun has caused deaths. The Guardian newspaper, in its database The Counted, which tracks killings by law enforcement, found in 2015 that 50 deaths of 1,146 were classified as Taser events. Both Amnesty International and the American Civil Liberties Union have raised concerns about the use of electro-shock devices.
As for the Kel-Tec shotgun, that's a weapon that caught the eye of gunman George Zimmerman, who in 2013 fatally shot to death 17-year-old Trayvon Martin. Zimmerman asked questions about the legality of buying the shotgun, according to TMZ. The same company also manufactured the gun used to kill Martin.