'With few exceptions': No business ties to Russia, Trump's lawyers say in letter
Published time: 12 May, 2017 17:18
Edited time: 13 May, 2017 11:20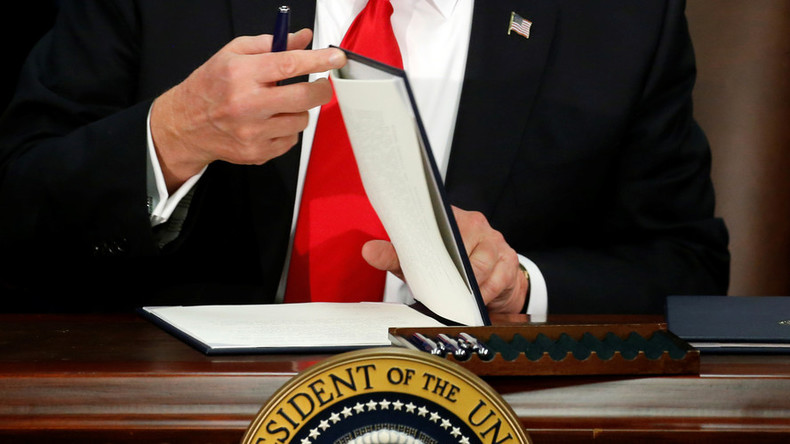 President Donald Trump has no income, equity or debt from Russian sources, according to his lawyers. The review of Trump's tax returns going back 10 years showed two major exceptions: a 2013 beauty pageant and a 2008 sale of a Florida estate.
In a letter dated March 8 and released Friday, Sheri Dillon and William Nelson from the law firm of Morgan, Lewis & Bockius LLP reported to Trump that a review of his tax records going back to 2007 shows no income, debt, equity or investments from Russian persons or entities, "with a few exceptions."
A "substantial amount" of the $12.2 million in foreign income of the Miss Universe beauty pageant came from the event held in Moscow in 2013, the letter notes. Trump sold the rights to the pageant in 2015.
The other exception listed was a July 2008 sale of an estate in Florida to a Russian investor for $95 million. Trump had acquired the property in 2005 for $41 million. AP has identified the buyer of the 62,000 square-foot property as fertilizer tycoon Dmitry Rybolovlev.
While it is likely that Trump's business may have sold goods or services to Russian buyers over the years, such income would not have been identified as "Russian" in the books or on tax returns.
"With respect to this last exception, the amounts are immaterial," wrote the lawyers, who have been Trump's tax counsel since 2005.
AP noted that the review only dealt with the last decade, "leaving open questions about whether there were financial dealings with Russia in earlier years."
The president's critics were quick to declare that the letter meant nothing without Trump's tax returns, and mocked the president on Twitter by turning the phrase "with few exceptions" into a trending hashtag.
Trump declined to disclose his 2015 tax returns during the campaign, claiming they were subject to an audit.
The letter was drafted in response to a request for information by Senator Lindsey Graham (R-South Carolina), who heads an intelligence sub-committee that is investigating allegations by Democrats of Trump's ties to Russia.
"I have no investments in Russia, none whatsoever," Trump said in an interview with NBC News that aired Thursday. "A lot of people thought I owned office buildings in Moscow. I don't have property in Russia."
The president added he "had dealings over the years," including the Miss Universe pageant and the sale of a home to "a very wealthy Russian," as outlined in the lawyer's letter.