'Drug dealers are going to prison': AG Sessions tells prosecutors to seek maximum sentences
Published time: 12 May, 2017 16:38
Edited time: 13 May, 2017 11:18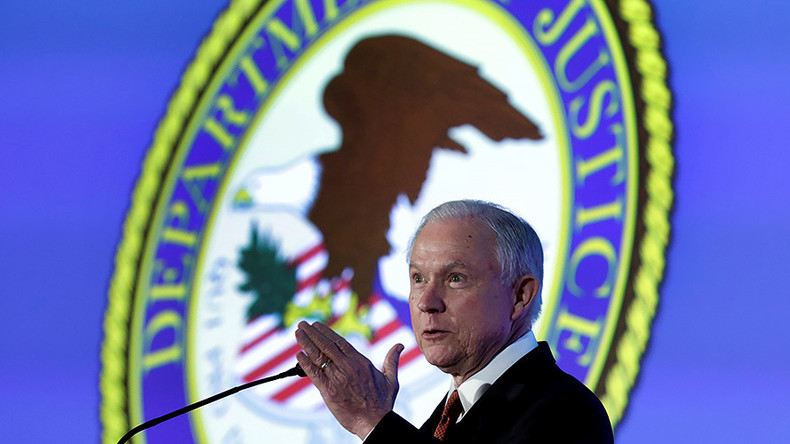 Attorney General Jeff Sessions is calling on federal prosecutors to charge criminal suspects with the most serious, provable, offenses under a new directive.
"By definition, the most serious offenses are those that carry the most substantial guidelines sentence, including mandatory minimum sentences," the AG said.
Published Friday, the memo sets out the new 'Charging and Sentencing Policy' for the Department of Justice. Sessions states that the core principle of the new policy is that "prosecutors should charge and pursue the most serious, readily provable offense."
Prosecutors "deserve to be unhandcuffed and not micromanaged from Washington," Sessions said of the sentencing memo.
The AG acknowledged that there will be cases where a prosecutor will conclude that a strict application of the policy is not warranted, but any decision to diverge from the policy must be explained in the file and approved by a United States attorney or assistant attorney general.
Speaking about the new policy at the Justice Department on Friday, Sessions said: "Let's be clear – we are enforcing the laws that congress has passed, our fundamental mission and our constitutional duty."
READ MORE: 20 state AGs call on DOJ to appoint special prosecutor in Russia probe
"It means we are going to meet our responsibility to enforce the law with judgement and fairness. But it is important to note that, unlike previous charging memoranda, I have given prosecutors discretion to avoid sentences that will result in injustice."
Addressing drug offences specifically, Sessions warned: "Drug dealers are going to prison."
"We are returning to the enforcement of laws passed by congress, plain and simple. If you are a drug trafficker we will not look the other way."
He noted that his office was not focusing on low level drug offenders but drug dealers citing hauls of 1kg (1,000g) of heroin, 5kg of cocaine, 10,000kg of marijuana.
The new 'tough on crime' policy has been criticized by civil rights groups. The American Civil Liberties Union said in a statement that repeating the 'Drug War' will take America back decades. Udi Ofer, director of the organization's Campaign for Smart Justice, said such "draconian policies have already cost us too much."
The Brennan Center for Justice at New York University School of Law said the memo marks a rollback from the 'Smart on Crime' initiative put in place during the Obama presidency by Former Attorney General Eric Holder Jr to aggressive practices of the past.
"The Trump administration is returning to archaic and deeply-flawed policies," said Inimai Chettiar, the director of the Brennan Center's Justice Program.
"Sessions is leaving little to no room for prosecutors to use their judgement and determine what criminal charges best fit the crime. That approach is what led to this mess of mass incarceration.
"It exploded the prison population, didn't help public safety, and cost taxpayers billions in enforcement and incarceration costs."
Under the Obama administration, prosecutors were given discretion to seek lower sentences that would not trigger federal "mandatory minimums" laws in some cases.
Former AG Holder has called the new policy as "dumb on crime" and said it "will take this nation back to a discredited past."
Sessions also outlined Friday that prosecutors must disclose to the sentencing court all facts that impact the sentencing guidelines or mandatory minimum sentences, and should in all cases seek a reasonable sentence.
He said that in most cases it will be appropriate to recommend a sentence in line with the guidelines but for any departures supervisory approval and reasoning must be given.
The new policy comes into immediate effect with any previous policy inconsistent with this to be rescinded, according to the memo.