Vermont is steps away from legalizing marijuana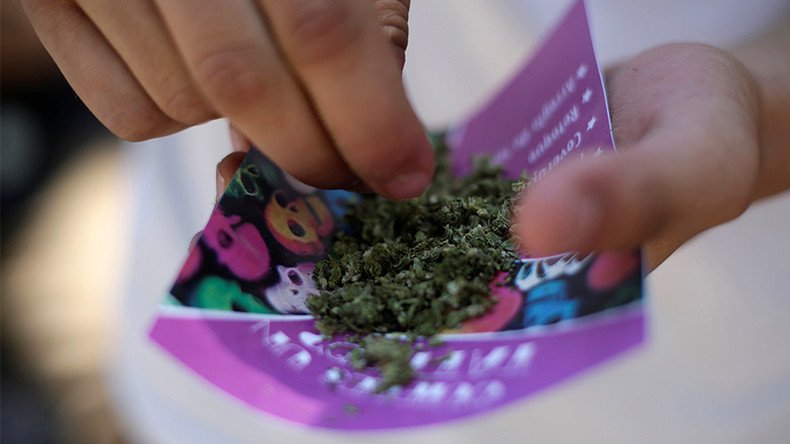 Governor Phil Scott is expected to sign a bill that would make Vermont the first US state to legalize marijuana for recreational use through legislation, rather than a voter initiative. Scott indicated he had concerns about the bill but is "not opposed."
The legislation was approved by a 79-66 vote on Wednesday and would eliminate penalties for adults 21 years and older, allowing them to possess one ounce or less of the drug beginning in 2018, according to WPTZ.
It also allows for adults 21 years and older to have up to two mature marijuana plants and four immature plants, according to the proposed measure.
However, public consumption and private sales would remain against the law.
The bill was identical to one passed by the Senate that also set up a commission to study the best way to regulate and tax marijuana.
It now on the desk of Republican Governor Phil Scott for consideration. His spokeswoman said he's not philosophically opposed to legalizing marijuana but must be sure the bill answer certain public safety and health questions.
"He'll review the bill when received to determine if those questions are addressed," spokeswoman Rebecca Kelley said after the vote, according to AP.
The governor's office is now reviewing the draft legislation which could take a few weeks.
Before passing the law, lawmakers engaged in an hour long debate on the issue.
"This is voting for trouble. We've had a lot of problems, and this is only going to make it worse," said Rep, Ben Joseph, (D-North Hero), according to AP.
Others who oppose the bill say the state already has a heroin crisis.
Three years ago, then governor Peter Shumlin devoted his entire State of the State address to the crisis, focusing attention and resources on the public health problem before it became a nationwide issue. Despite those efforts, the "crisis" is still claiming lives. Figures, obtained by Seven Days, show that 100 Vermonters died from fatal opiate overdoses in 2016.
Supporters argued that marijuana use in the state is already prevalent and passing the law could give the state a say in its regulation, eliminate the black market and possibly increase state revenue.
"I would contend it is irresponsible to not get a handle on this issue," Rep. Susan Buckholz said.
The state legalized medical marijuana use in 2004. In 2013, former Governor Shumlin signed a bill that decriminalized marijuana possession of 1 ounce or less to a civil infraction.
Vermont lawmakers commissioned a Rand Corporation study in 2014, released in 2015, which showed the state could gain between $20 and $75 million a year in tax revenue. The study also noted the taxes could be vulnerable to either federal
interference or market competition if a neighboring state were to legalize the drug.
Eight states and the District of Columbia have legalized the recreational use of small amounts of marijuana.
The vote by Vermont lawmakers is the first to legalize the drug separate from a voter initiative.
You can share this story on social media: