Investors, top businesses urge Trump to stay in Paris climate deal on eve of decision
Published time: 8 May, 2017 20:56
Edited time: 10 May, 2017 06:46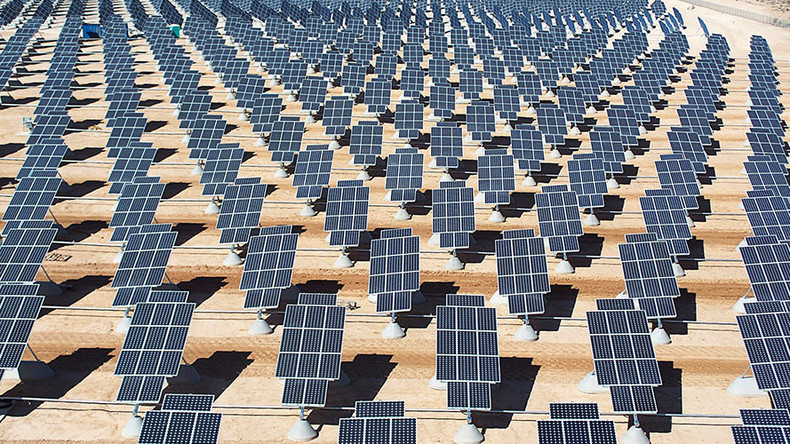 Major global investors and American-based businesses have joined environmental and public health advocates in calling on the US to remain committed to the Paris climate change agreement that President Donald Trump has threatened to "cancel."
Major investors addressed their concerns in a letter to Group of Seven (G7) governments that are set to meet in Italy on May 25, as well as to leaders of the Group of 20 (G20) who will meet in July.
"As long-term institutional investors, we believe that the mitigation of climate change is essential for the safeguarding of our investments," says the letter, signed by 214 institutions with more than $15 trillion of assets.
Trump is expected to make a decision as early as this week on whether to keep the United States involved in the 2015 Paris climate accord. Pursuant to the agreement, global governments committed cutting their nations' carbon emissions, the driver of climate change, in pursuit of "efforts to limit the (global average) temperature increase to 1.5 °C above pre-industrial levels."
"We urge all nations to stand by their commitments to the Agreement," the letter says, as the groups called on world leaders to remain focused on climate change "and the advancement of sustainable energy supply and energy efficiency."
The letter by investors was coordinated by the Institutional Investors Group on Climate Change, which calls itself a "forum for collaboration on climate change for investors."
"The implementation of effective climate policy mechanisms and the regular monitoring of outcomes is vital for investors to make well-informed investment decisions that can also better support governments in delivering their national commitments and priorities," wrote the investors.
The letter's signatories include major firms like HSBC Global Asset Management, as well as pension funds such as California Public Employees Retirement System and a host of faith-based groups.
Top American-based businesses, meanwhile, are also on record as supporters of the US government's sustained involvement in the accord.
At least about 1,100 US businesses – including Apple, Exxon Mobil and Walmart – are on record as supporting the Paris agreement, according to the National Resources Defense Council.
"We are for staying in" the accord, General Electric CEO Jeff Immelt said late last week, according to the Financial Times.
Since taking office in January, Trump has made it a priority to roll back several environmentally-friendly regulations and initiatives advocated by the previous presidential administration of Barack Obama.
Trump has asked his daughter, Ivanka Trump, to lead a review process over the decision before he makes the final call.
Should Trump decide to withdraw from the pact's requirements, the US would still remain involved at least until about 2020, based to the accord's stipulations, AP reported.
Supporters of the US government's role in the accord say withdrawal could be disastrous for a variety of reasons.
"If the US pulls out, it will be a pariah," Andrew Light, a climate adviser at the World Resources Institute, told AP. "It will be on the sidelines, and that's going to hurt American businesses."
In addition to environmental concerns, business and national security interests should lead the US to remain in the pact, says Todd Stern, the US special envoy for climate change during the Obama administration.
"Recognizing that negotiations on guidelines and rules will continue and that their interests on matters such as intellectual property, trade and transparency could be affected, business leaders care — a lot — about having US negotiators at the table to protect those interests," Stern wrote Monday in his defense of the accord.