Earth's hottest year: 2016 sets sizzling new record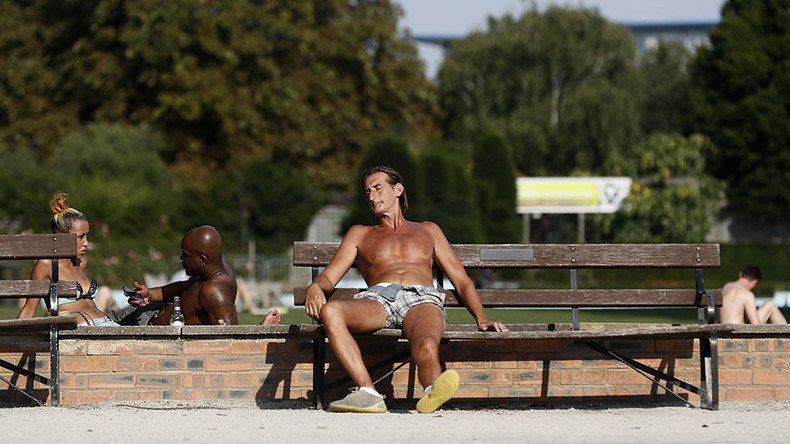 Average global temperatures hit all-time highs for the third consecutive year in 2016 according to US government agencies. In the United States, 2016 was the second-hottest year on record.
Thanks to record warmth from January to August, 2016's average global surface temperature was the highest on Earth since 1880, when such record keeping began, NASA and the National Oceanic and Atmospheric Administration (NOAA) said in separate analyses.
Average 2016 temperatures on Earth's land and ocean surfaces hit 58.69 degrees Fahrenheit, which is 1.69 degrees above the 20th century average, NOAA said.
The new high marks the fifth time the global temperature record has been bested since 2005, NOAA added.
NASA credited carbon dioxide "and other human-made emissions into the atmosphere" for a rise by about 2.0 degrees in the Earth's average surface temperature since the late 19th century. Most of this warming trend throughout the world has taken place in the last 35 years, the US space agency said.
"2016 is remarkably the third record year in a row in this series,"said Gavin Schmidt, director of NASA's Goddard Institute for Space Studies. "We don't expect record years every year, but the ongoing long-term warming trend is clear."
All but one of the 17 warmest years on record have occurred since 2001, according to NASA.
With the exception of June, all months from January to September saw record temperatures in 2016. October, November and December of last year all reached second-hottest status after each hit new heights in 2015, NASA said.
In 2016, North America had its warmest year on record, NOAA found, with South America and Africa reaching second-hottest yearly records. Europe had it third-hottest year, while Australia had its fifth.
The average Arctic sea ice extent for 2016 was 3.92 million square miles, the lowest total since such record-keeping began in 1979, NOAA reported. Average Antarctic sea ice extent was 4.31 million square miles, the second-lowest total since 1979.
For the US, 2016 was the second-hottest year on record, NOAA said. The US also had its second-most number of yearly disasters in 2016, with 15, including eight severe storms and four inland floods. These weather and climate disasters caused 138 deaths and $46 billion in damages.
You can share this story on social media: