Global temperatures set 14th consecutive monthly record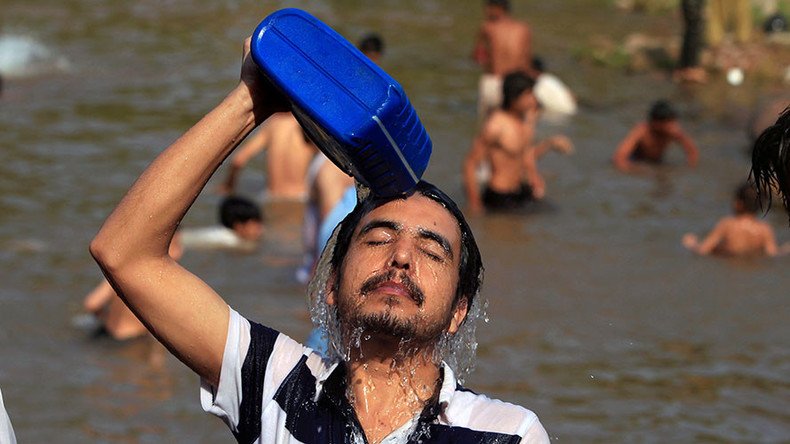 Last month was declared the hottest June ever recorded in modern history, with global temperatures in the past 14 months breaking all records since 1880, scientists reported.
On Tuesday the National Oceanic and Atmospheric Administration (NOAA) said that June was the 14th consecutive month with record high temperatures. April 2015 was the last month when the Earth did not encounter any record high temperatures.
"The globally averaged temperature over land and ocean surfaces for June 2016 was the highest for the month of June in the NOAA global temperature dataset record, which dates back to 1880," the agency said in a statement.
"This marks the 14th consecutive month the monthly global temperature record has been broken, the longest such streak in the 137-year record."
In the report the scientists either looked at sea or land temperatures separately or at a combined average over land and ocean surfaces.
In particular, the combined average temperature over global land and ocean surfaces for June was 1.62 degrees Fahrenheit (0.9 degrees Celsius) higher than the 20th century average of 59.9 degrees Fahrenheit (15.5 Celsius). When looking at land or ocean temperatures separately, a considerable increase in figures was also recorded.
The calculations also showed that June 2016 is the 40th June during which global ocean temperatures were "at least nominallyabove the 20th century average".
The report also analyzed the so-called "monthly temperature departures", in other words record spikes in heat. The scientists singled out 15 of the highest spikes and said that 14 of them have taken place since February 2015.
Last year was considered the hottest on record surpassing its previous rival – 2014. However, 2016 has all the chances of beating 2015 as all first six months of this year were record warm.
Researchers said that both El Niño and human-created global warming can at least partially explain the increase in temperatures. According to NASA chief climate scientist Gavin Schmidt, El Niño accounts for around 40 percent of the reason why 2016 is hotter than the previous year.
"While the El Niño event in the tropical Pacific this winter gave a boost to global temperatures from October onwards, it is the underlying trend which is producing these record numbers," said Schmidt.
While he said that 2016 has a 99 percent chance of being a third record hot year in a row, the temperatures in 2017 are likely to cool off.
You can share this story on social media: