Trump urges Congress to pass 'very important' school choice program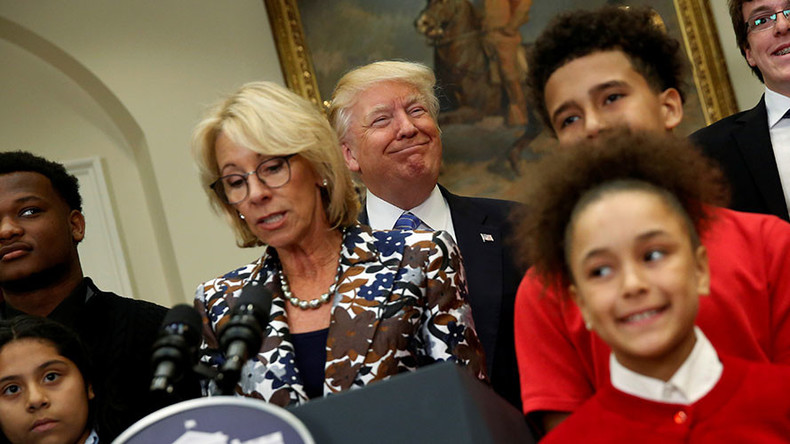 President Donald Trump campaigned on a $20 billion school choice voucher program, and now he has pushed the issue again during a White House event marking National Charter Schools Week with privatization advocate and Education Secretary Betsy DeVos.
A group of children participating in the DC Opportunity Scholarship Program, the only federal voucher program in the country, visited the White House on Wednesday, where Trump and DeVos promoted school choice.
"During my campaign for president, I promised to fight for school choice," Trump said, the Associated Press reported. "Very important," he added.
Trump continued: "Every child has the right to fulfill their potential, and, if we do our jobs, then we will never have to tell young, striving Americans to defer their dreams for another day or for another decade." He also called on Congress to "extend school choice to millions more children all across the United States of America, including millions of low-income Hispanic and African American children who deserve the same chance as every other child to live out their dreams and fill up their hearts and be educated at the top, top level."
While Congress is currently embroiled in disputes over budgeting, health care and taxes, among other issues, the Trump administration is seemingly building momentum for a reform of education.
Critics, however, point to a federal study released last Thursday that found students in their first year at a private school in the District of Columbia did far worse on standardized math tests compared to their public school peers, and that reading tests among kindergarteners up to fifth graders were also much lower for first-year private school attendees.
No such great difference in reading scores was found in the federal research of the vouchered students who had been in private schools more than one year. Other findings included a negative impact on achievement for students coming from higher-performing public schools into a private school, and no significant effect in those coming from lower-performing public schools into private schools. The analysis came from data of over 1,700 students in the school voucher lottery system from 2012 to 2014.
Those who favor school choice say the test scores are a red herring, and that what truly matters is high school graduation and college admittance rates, at which the private schools excel. The federal report did back that up as well as a prior federal study done in 2010 that found 91 percent of vouchered students graduated on schedule, while just 70 percent of non-vouchered students did so.
There is no current legislation, but the appointment of Secretary DeVos sent a strong enough message as to what's being considered. Her confirmation hinged on a tie-breaking vote in the Senate by Vice President Mike Pence, whose home state of Indiana where he served as governor is one of 17 states with some form of school choice.
DeVos "looks forward to working with the White House and Congress on legislation that accomplishes that goal," press secretary Liz Hill said in a statement, AP reported.
You can share this story on social media: