Black Mississippi lawmakers to skip conference over use of Confederate emblem
Published time: 3 May, 2017 17:33
Edited time: 5 May, 2017 06:27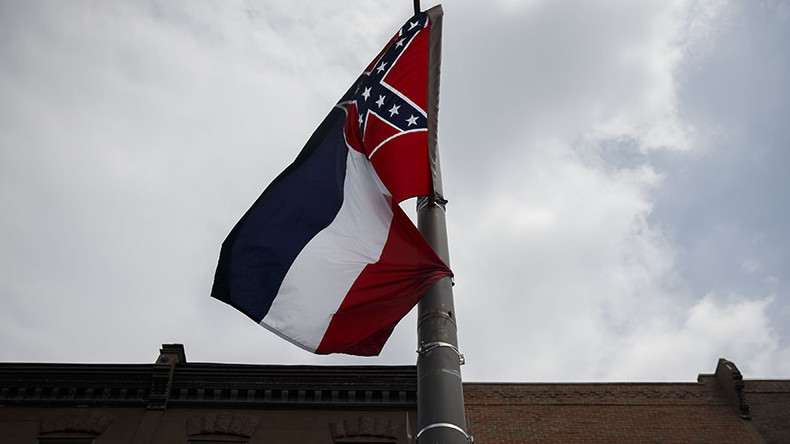 Black lawmakers in Mississippi said they are boycotting a regional meeting to protest the state flag, the Stars and Bars, which includes a Confederate war emblem. They argue the flag is a "point of offense" as a reminder of slavery and segregation.
"What we're really wanting is a flag that charts a different future for our state, that charts a different future for our children and that is about a vision that unites people in the state with each other as well as unites Mississippi with other states in the nation," Rep. Sonya Williams-Barnes (D, Harrison), chairwoman of the Mississippi Legislative Black Caucus, told the AP.
Representative Williams-Barnes said the boycott is designed to put pressure on state House Speaker Philip Gunn, who has not rounded up the votes to make the change to the flag.
Black Mississippi lawmakers have pushed for years for a redesign to the state flag, which is a red field topped by a blue tilted cross dotted by 13 white stars. Fifty-one of the state's 174 lawmakers are black and 50 are in the Black Caucus. Williams-Barnes said the majority of members voted to boycott the regional conference. She said she would ask black lawmakers from other states to stay away as well.
"A stronger statement would have been to conduct the 2017 meeting in another state," wrote Rep. Williams-Barnes in a letter to Mississippi House Speaker Gunn.
"We believe participation at the meeting would send a message of support for the continued use of the Confederate flag."
As many as 22 bills were filed regarding the state flag in the last legislative session, but none of them ever made it.
Critics say the flag is a reminder of slavery and segregation in a state with a 38 percent black population. Flag supporters, however, say it "represents history that should not be forgotten," according to the AP. The state has used the same flag since 1894, and voters chose to keep it in a 2001 election.
The boycott comes during a sweeping movement to remove public displays of Confederate symbols across the South.
South Carolina removed a Confederate battle flag from the statehouse lawn in 2015 after nine black worshippers at a Charleston church were killed.
In April, lawmakers in New Orleans started to dismantle Confederate statues.