Trump gives 'serious consideration' to moving US embassy in Israel to Jerusalem – VP Pence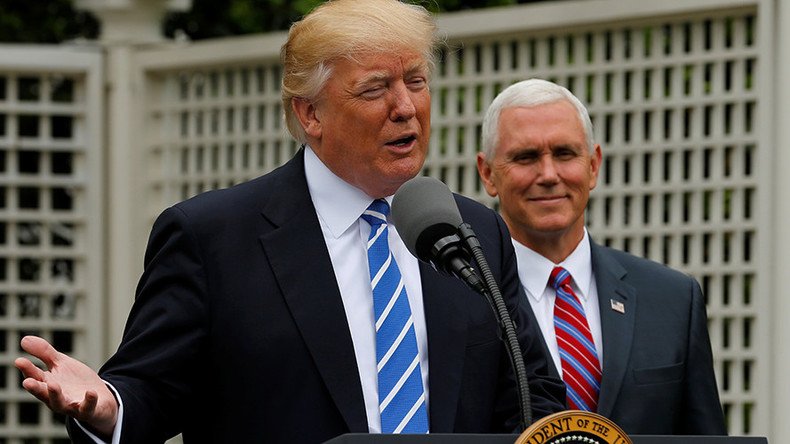 President Donald Trump may be closer than ever to relocating the US embassy in Tel Aviv to Jerusalem, Vice President Mike Pence hinted during an Israel Independence Day speech. The White House is thought to be readying a possible trip for Trump to Israel.
Speaking at the White House for an Israeli Independence Day commemoration on Tuesday, Vice President Pence told celebrators that President Trump, "as we speak, is giving serious consideration to moving the American embassy in Tel Aviv to Jerusalem," to applause and cheers.
READ MORE: Israel plans construction of 15,000 new settlements in E. Jerusalem
"To be clear," Pence continued, "the president is also personally committed to resolving the Israeli and Palestinian conflict."
Pence added: "Even now we're making valuable progress toward the noble goal of peace. Thanks to the president's tireless leadership, momentum is building and good will is growing. And that while there will undoubtedly have to be compromises, you can rest assured, President Donald Trump will never compromise the safety and security of the Jewish state of Israel, not now, not ever."
READ MORE: F-35 fighter jets debut at Israel's Independence Day air show (VIDEOS, PHOTO)
Last week, The Times of Israel reported that a White House official confirmed a Trump visit to Israel is being "explored." The trip reportedly is tentatively scheduled in late May around the time Trump is set to travel to Brussels for NATO talks. Israeli Prime Minister Benjamin Netanyahu visited the White House in February.
Palestinian Authority President Mahmoud Abbas meets with Trump for the first time Wednesday.
READ MORE: Hamas 'ready to support' 1967 Israeli-Palestinian borders before Trump meets Abbas
You can share this story on social media: