21,000 AT&T workers poised for strike over benefits, internet access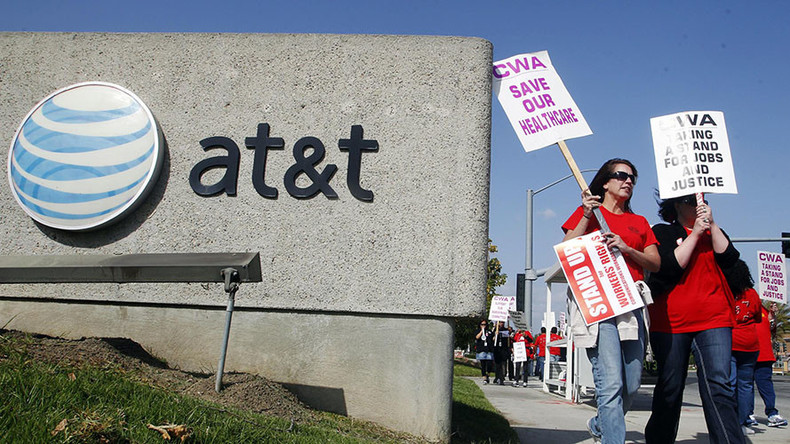 Communications Workers of America members have given AT&T 72 hours' notice of a mass walkout over a stalemate in employee contract negotiations.
During an annual shareholders meeting of AT&T investors and executives Friday in Dallas, Texas, on Friday, CWA announced that 21,000 retail, call center and tech workers across 36 states are planning to end their contract, which could result in a massive strike this coming Monday.
"AT&T thinks they can play by their own rules, but 21,000 wireless workers are ready to show them what happens when you bet against American workers," said Dennis Trainor, Vice President of CWA District one. "The pieces are all in place now, and we'll strike if necessary."
The union has been negotiating with AT&T since February, when they agreed to a temporary contract extension. As part of the agreement, both sides were allowed to terminate the contract with a 72-hour notice. If there is no contract in place, the union will be free to strike at any time.
The union is also looking to negotiate a deal for the 17,000 AT&T West and DIRECTV workers that have been working without a contract for more than a year.
AT&T said on Friday that they "remain confident a fair agreement can be reached," according to a statement obtained by CNN. "The contract covers good paying US jobs averaging nearly $70,000 a year in pay and benefits."
After months of negotiations, the union says workers are frustrated with the company's refusal to "invest in the company's workforce, protect the basic promise of quality customer service, and end offshoring and outsourcing with a fair contract."
The CWA is calling on the company to end its practices of sending jobs overseas, claiming that 12,000 call center jobs in the US have been eliminated and thousands more have been outsourced.
They also want to provide more communities with high-speed broadband, including rural areas. They cite a recent report from UC Berkeley's Haas Institute, which found 4 million homes in California were unable to access AT&T's high-speed broadband.
The union claims that AT&T's lack of investment in infrastructure has caused outages resulting in over 12,000 unique callers not being able to reach 911. They are calling on the company to take responsibility and provide more real-time reporting on outages.
More than a hundred workers showed up at the annual shareholder's meeting on Friday to air their grievances about the company while CEO Randall Stephenson was on the stage.
"We came to Dallas today to send a message to AT&T: we're sick and tired of being taken advantage of and we're ready to do something about it," said Cheryce Chambers, a retail worker from the Bronx, New York.
"Striking is never easy, but we mean it when we say we'll do whatever it takes for a fair contract that keeps our jobs at home, provides for our families, and protects the promise to provide high-quality customer service," Chambers said.
The union is threatening to vote against a $28.4 million compensation package for Stephenson, which they call "excessive, particularly while there is widespread instability in the company's workforce."
In a news release issued after the 72-hour notice, the union claimed the company did sit down with union members, but they were not able to come to an agreement.
"AT&T is standing by their greedy proposals and looking to slash benefits and outsource jobs while they make over a billion dollars a month," the news release said.
Last month, 17,000 AT&T workers in California, Nevada and Hawaii staged a one-day grievance strike after AT&T violated contract terms when it forced technicians to do work outside their areas of expertise. The union claims this was done without bargaining as required by federal law.
Last year, nearly 40,000 Verizon workers went on strike for six weeks, making it the largest strike in US history. A deal was finally reached when former Labor Secretary Tom Perez was able to negotiate a four-year contract, resulting in higher pay and better job security than the company had initially offered.