Democrats seek to re-establish congressional war powers against ISIS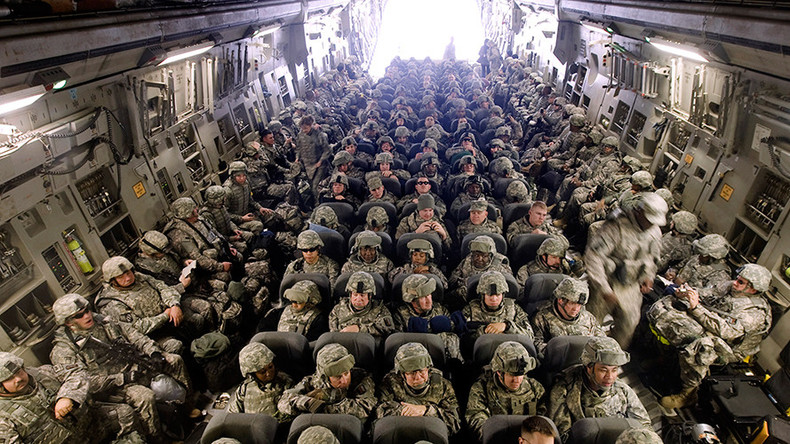 Ten Democratic lawmakers are backing a bill that would Introduce a new authorization for using military force against ISIS, Al-Qaeda and the Taliban without geographical restrictions.
The new Authorization for Use of Military (AUMF) would replace the 2001 and 2001 war powers immediately, and usher in a single authorization that would sunset in three years.
It would put in place new reporting requirements to Congress and the public as to how the authority is used and against which groups.
"For far too long, Congress has abdicated its constitutional responsibility to authorize military action abroad, effectively ceding the war-making power to the executive branch," said Congressman Adam Schiff (D-California) in a statement about the bill on Thursday. "More than 15 years later, our operations against group as diverse as the Taliban in Afghanistan, Al-Qaeda in Yemen, and ISIS in Syria are authorized under a 60 word authorization passed days after the attacks [on 9/11]."
President George W. Bush was granted an AUMF to attack Al-Qaeda and the Taliban in the days after the September 11 2001 terrorist attack and then later authority to oust Saddam Hussein from Iraq. The so-called 'war on terror' has expanded to include Libya, Syria, Yemen, Somalia and other countries and the focus has shifted from Al-Qaeda to the Islamic State (IS, formerly ISIS/ISIL). Some members of Congress and legal scholars contend the two original authorizations are outdated.
Republicans have for years pestered Obama to revoke the previous AUMFs and come up with a new version. Obama finally complied in 2015, sending a severely limited proposal to Capitol Hill where both Democrats and Republicans shelved it saying they couldn't come to a conclusion. Some wanted to broaden power to commit troops while others said Obama's limited proposal went too far.
Schiff argues that as deployments to Iraq and Syria increase, complicated by the use of a cruise missile strike against Syria, Congress has to "debate and vote on any new war."
"Congress must demand of this Administration and future Administrations the legal justifications for any military action, and hold them accountable for those actions."
House Republicans introduced their own measure in March, with a companion bill in the Senate.
The measure, introduced by House Representative Jim Banks (R-Indiana) would include the fight against IS in the resolution. The Senate version was introduced by Senator Todd Young (R-Indiana).
Banks' proposal would allow the US to detain members of terrorist groups. It would also require President Trump to submit to Congress a comprehensive plan to defeat IS within 30 days of signing the bill into law – a requirement that mirrors an order the president issued at the end of January, tasking military and security leaders to create a plan to defeat IS within 30 days.
Without Republican and Democratic co-sponsors, the measures have little chance of passing, but if they do pick up support, it could pave the way for future legislation.
Schiff and Senator Tim Kaine (D-Virginia) in a joint letter to President Trump this week, also sought the basis of his legal authority for the missile strike on Syria's Shayrat Air Base earlier this month.
"While the administration provided a notification to Congress, consistent with the requirements for the War Powers Resolution, that notice simply asserted that the strike was ordered… and you might order 'additional action, as necessary and appropriate, to further important national interests,'" wrote Schiff and Kaine.
The lawmakers said the assertion didn't provide Congress with the information it needed to "exercise our constitutional responsibilities," and the justification for bombing shouldn't be an afterthought.
They argued the lack of justification does not "provide comfort to a public that fears deeper involvement in a horrific civil war at a time with the US troop presence in the region is already increasing."
Schiff and Kaine stressed this was all the more important because of increasing tensions in the North Korean Peninsula.
Even without a new AUMF, the US military has been expanding its fight against IS.
In March it was reported the Pentagon was planning on deploying 1,000 more troops to Syria to help in the offensive against the IS stronghold of Raqqa.
Officially, there are 503 US troops in Syria, according to the Pentagon, largely Special Forces operators who have been training local opposition troops.
You can share this story on social media: