ISIS leaders 'negotiate merger' with other terrorist groups – FSB head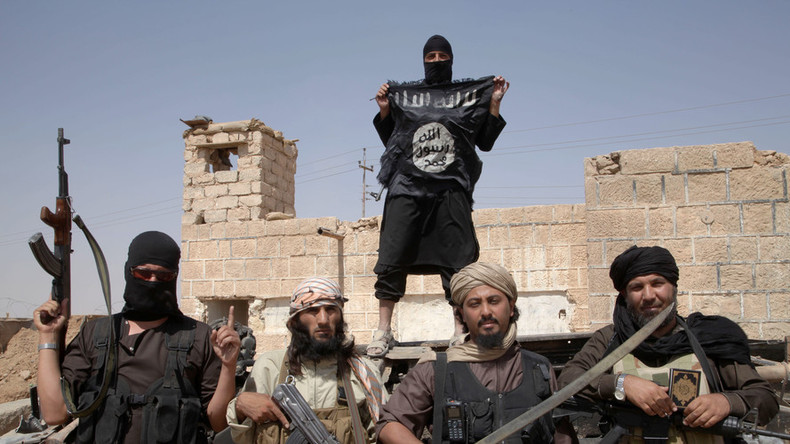 Islamic State (IS, formerly ISIS/ISIL) and other terrorist groups are changing their tactics, moving fighters to Afghanistan, Yemen and Africa in order to set up a new large-scale terrorist network, the head of Russia's Federal Security Service has stated.
"Having realized that they are being threatened with total destruction in the zone of their former domination, leaders of the largest international terrorist groups, such as Islamic State, Al-Nusra Front and the remnants of the pre-existing Al-Qaeda structures, began changing their tactics. In particular, they stepped up transfer of militants over to Afghanistan, Yemen and deep into Africa, and started building support points and bases there," Aleksandr Bortnikov told participants of the VI Moscow Conference on International Security on Wednesday.
"We're talking about development of a new large-scale terrorist network," the FSB director said. "There are also reports of ongoing negotiations between Islamic State and other [terrorist] groups about a possible merger."
Bortnikov pointed out that the remaining potential of international terrorist organizations means that the countries fighting against terrorism are still practicing diverse approaches. To solve these issues and build an effective anti-terrorist front, it is necessary to jointly work out some key standards.
"The UN is the best platform for such work," he added.
The top Russian security official said that shutting off terrorists' resource base is an important part of countering international terrorist organizations.
"It is necessary to work deeply in the environment that leaders of international terrorist organizations rely upon and find support in carrying out their actions. We see it in Syria, Iraq and in other places, where a significant number of people become suicide bombers for the sake of terrorist ideas," Bortnikov said, noting that this has already become a trend.
Bortnikov stressed that the terrorists' activities are becoming more and more aggressive.
"We see how the militants, after being ideologically doctored and tested in combat in zones of armed conflicts, get all the necessary contacts and skills of concealing their criminal activity, and return to the countries of exodus or move to other parts of the world that were not previously exposed to the terrorist threat.
"These terrorists' activities become more sophisticated, their propaganda is more aggressive, the goals of attacks and ways of their fulfillment more diverse," Bortnikov said.
The Middle East and North Africa are the main hotbeds for terrorism around the world, Bortnikov said.
"Orchestrating Arab Spring events from the outside was deliberately aimed at the so-called democratization of a number of countries in these regions and causing chaos in them, which led to enormous changes in those states. As a result, legitimate governments are now fighting against armed groups of terrorists," the FBI director said.
This in turn has led to millions of refugees forced to flee their homes in search of safety, shelter and food.
"The overall situation with refugees and migrants cannot be ignored, especially with regard to an ideological support for the integration of displaced persons. These processes are associated with the fact that they are rejected by a new society, a new social environment, which triggers aggression," Bortnikov said.
Russian Deputy Defense Minister, Aleksandr Fomin, told RT earlier this month that most terrorist groups today are a product of political, financial and military efforts from the outside of the country where they operate. With terrorist attacks looming large, Fomin said the world is currently witnessing some kind of a hybrid political and military phenomenon, gaining momentum.
"These are some new techniques, and revolutions are exported to different states that are supposedly suffering under undemocratic regimes. So-called democratic regimes are being planted in these countries from the outside,"Fomin said.
"Because of this policy, some states ceased to exist; others are on the verge of disappearing. Look at Syria now, and Yemen. We can ask ourselves – who's next?"
The Russian Defense Ministry has been staging the large-scale Security Conference annually since 2011. The forum offers an exclusive opportunity for international defense officials, organizations, NGO experts, and journalists to address key security issues.
You can share this story on social media: