Al-Qaeda leader tells terrorists to prepare for long guerrilla war in Syria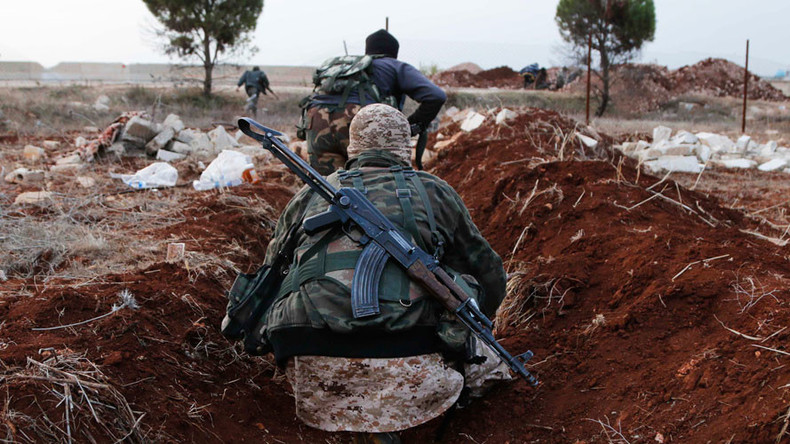 The leader of international terrorist group Al-Qaeda has urged jihadists fighting in Syria to unite for a 'holy war,' and to use guerrilla tactics.
Ayman Al Zawahri's audio message was published by Al-Qaeda's media arm, As-Sahab, on Monday, although it did not specify the time when the recording had been made, according to Reuters.
The successor to Osama bin Laden said that the fighters must be patient and steadfast, preparing themselves for a long guerrilla war in Syria. The enemies he listed ranged from government forces and militias backed by the West, which jihadist extremists often call "crusaders," to Alawites and Shiites, which the Sunni terrorists consider heretics.
READ MORE: Pentagon boasts of killing Bin Laden-linked Al-Qaeda leader in deadly Idlib airstrike.
Al Zawahri also called on Muslims around the world to join the jihad. Militants of Al-Qaeda's Syria affiliate, Al-Nusra Front (now self-styled Jabhat Fateh al-Sham), as well as Islamic State (IS, formerly ISIS/ISISL) terrorists, are in a years-long fight against government forces and their allies in Syria. Al-Nusra terrorists have lost control over much of the territories they had held previously, and now their share is "no more than 10-12 percent of the country," Russian Ambassador to Syria Alexander Kinshchak told Sputnik, adding that most of its militants are now contained to the province of Idlib.
The Syrian government controls "large cities and densely populated areas," which make up around "35 percent of the country's territory."
Damascus says that terrorist groups may still have chemical weapons – one of the stockpiles, according to the Syrian government, was hit in an air raid on Idlib Province in early April. This triggered a chemical incident with multiple civilian casualties. The US, claiming it was the government forces that used the chemical weapons, launched a missile attack on a Syrian military base on April 7.
You can share this story on social media: