'Egregious abuse of federal power': Trump orders review of new nat'l monuments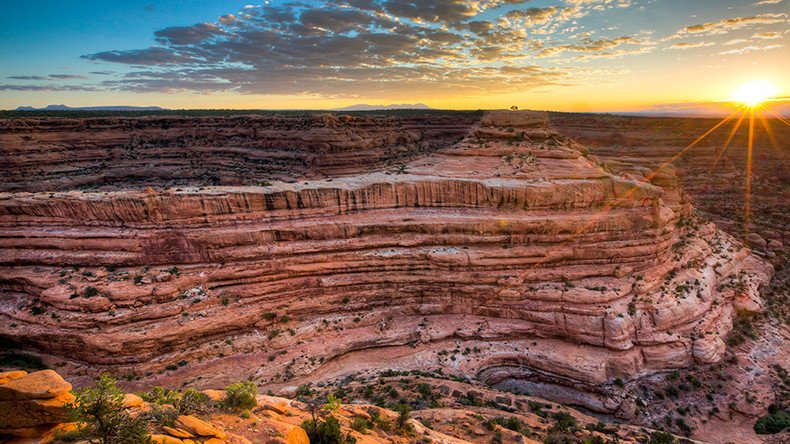 President Donald Trump has directed the Interior Department to review a slew of national monuments, arguing their designations as such over the last two decades was an "abusive" federal land grab. Critics contend the move will destroy sensitive lands.
"Today I'm signing an executive order to end another egregious abuse of federal power and to give that power back to the states and to the people, where it belongs," Trump said in a signing ceremony at the Department of Interior headquarters. "Today, we are putting the states back in charge. It's a big thing."
The order calls on Interior Secretary Ryan Zinke to consider whether monument designations at up to 40 sites should be "rescinded, resized or modified in order to better benefit our public lands." The 45-day review covers all monument designations over 100,000 acres dating back 21 years.
"The previous administration used a 100-year-old law known as the Antiquities Act to unilaterally put millions of acres of land and water under strict federal control," Trump said.
"The Antiquities Act does not give the federal government unlimited power to lock up millions of acres of land and water," he added. "It's time we ended this abusive practice."
Zinke said he would seek local feedback before making any recommendations, but noted that lifting or altering any designations would be tricky because such moves would be unprecedented. Previous presidents have tweaked ‒ but not revoked ‒ predecessors' designations.
"It is untested, as you know, whether the president can do that," Zinke said.
Utah's lawmakers, including the governor and the congressional delegation, had lobbied Trump to overturn President Barack Obama's controversial creation of Bear Ears National Monument, a 1.3 million-acre site in the Beehive State.
Senator Orrin Hatch (R-Utah) "would call me and call me and say 'you gotta do this,'" Trump said. He "didn't stop. He doesn't give up."
"Tremendously positive things are going to happen on that incredible land," the president said of Bears Ears.
Since it went into effect in 1906, the Antiquities Act has been used by 16 of the last 19 presidents "to protect some of our country's most special places. You know places like the Grand Canyon [National Park] started out out as a national monument," Zinke said. "And it's not just our important landscapes that have been protected, it's also used to protect some unique American cultural sites, especially Native American cultural sites."
Somewhere along the way, however, the act became a "tool of political advocacy rather than public interest," he added.
Native American tribes and conservation groups oppose the removal of any national monuments. A coalition of five tribes that fought for Bear Ears to become a monument, and that are working to manage it alongside federal officials, decried the new executive order.
"It is extremely troubling that after years of effort to protect ancestral Native lands, President Trump and Secretary Zinke plan to give a cursory look at Bears Ears National Monument," Carleton Bowekaty, a councilman in the Zuni Tribe and co-chairman of the Bears Ears Inter-Tribal Coalition, said in a statement.
"This so-called 'review' creates a process to attack the designation of Bears Ears National Monument, and all public lands that are cherished by the American people."
Conservation groups warned that any changes to the monument designations would undermine a bedrock conservation tool and open up sensitive lands to fossil fuel development.
"This executive order calling for 'review' of national monuments designated under the Antiquities Act is an affront to every American who enjoys our national parks and historic sites, and an injustice to the future generations who should inherit them," said Jamie Williams, president of the Wilderness Society.
Land near Bear Ears was previously approved for drilling by Texas-based EOG Resources. It will be the first monument to go under review, Zinke said.
"This administration has made it clear that they're going to do the bidding of the oil and gas industry," said Jennifer Rokala, executive director of the Center for Western Priorities, a Colorado-based conservation group.
You can share this story on social media: