Arkansas double-execution the first in US since 2000
Published time: 24 Apr, 2017 23:54
Edited time: 25 Apr, 2017 07:50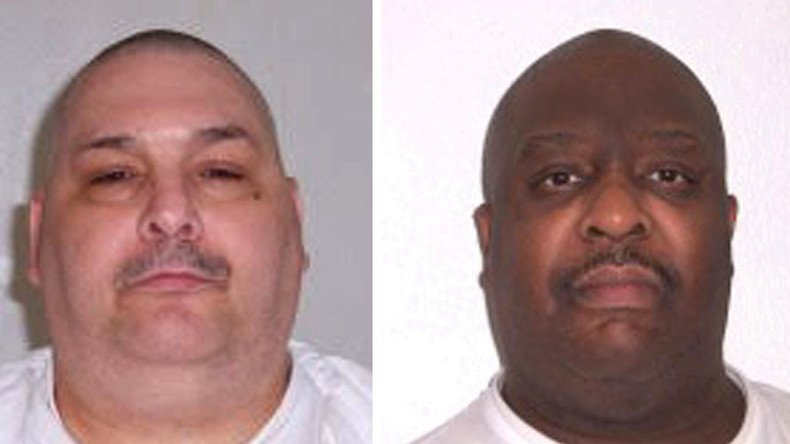 Arkansas has put to death two men convicted of rape and murder, after their last-ditch efforts appealing to the US Supreme Court failed Monday evening.
Jack Jones, 52, and Marcel Williams, 46, petitioned the US Supreme Court to halt their executions, citing their obesity as cause for risk of cruel and unusual punishment under lethal injection, according to Reuters.
They had already lost their cases before the Arkansas Supreme Court and the 8th US Circuit Court of Appeals.
Jones was judicially killed as scheduled around 7:00pm Central time, and Williams' lethal injection was to follow soon after, at approximately 8:15pm. However, Williams' execution was delayed after a federal court took up his appeal after the US Supreme Court refused to consider it.
Williams was eventually executed shortly after 10:30pm Central time.
Williams had argued that Jones wasn't sedated by the midazolam during his execution, and that the drug would have the same effect, or lackthereof, on him.
Jones was convicted of raping and killing 34-year-old Mary Phillips and leaving her 11-year-old daughter for dead after trying to murder her in 1995. Williams was convicted of the 1997 murder of 22-year-old Stacy Errickson, and also abducted and raped two other women.
Opponents of the death penalty have demonstrated their views both online and off. While some protesters gathered outside the Cummins Unit execution chamber, others criticized the state on Twitter for not considering evidence that Williams was sex-trafficked during childhood.
Outside the Cummins Unit, as Jack Jones is executed. Randy Gardner, whose brother was executed in 2010, rings the bell, along with others. pic.twitter.com/yXfZuytL8c

— Liliana Segura (@LilianaSegura) April 25, 2017
Arkansas Attorney General Leslie Rutledge called Williams' last appeal "the very worst in death penalty litigation."
Texas was the last state to execute two death row inmates in one day, in 2000.
READ MORE: Arkansas executions continue legal limbo after state supreme court & federal appeals rulings