Arkansas executes first inmate in 12 years, more lethal injections to come before drug expires
Published time: 21 Apr, 2017 05:21
Edited time: 24 Apr, 2017 23:57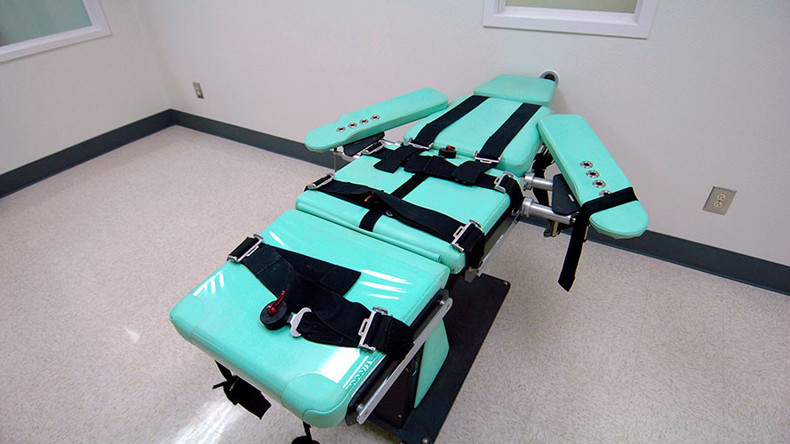 The state of Arkansas has executed an inmate for the first time since 2005, and plans to execute several more convicts before its supply of a lethal chemical expires in late April.
UPDATE: On Monday evening April 24, the US Supreme Court declined to block two Arkansas executions scheduled for Monday night, the first double-execution in the US in 17 years.
Arkansas is set to put to death two men convicted of rape and murder on Monday evening, after their last-ditch efforts appealing to the US Supreme Court were rejected. Jack Jones, 52, and Marcel Williams, 46, petitioned the US Supreme Court to halt their executions, citing their obesity as cause for risk of cruel and unusual punishment under lethal injection, according to Reuters.
BREAKING: Arkansas executes inmate, first to die under state's plan of multiple lethal injections before drug expires.

— The Associated Press (@AP) April 21, 2017
Ledell Lee, who was sentenced to death for murdering his neighbor, Debra Reese, in a Little Rock suburb in 1993, was pronounced dead at 11:56pm central time at the Cummins Unit prison in southern Arkansas. He received three lethal injections, including midazolam, to render him unconscious, vecuronium bromide to halt his breathing, and potassium chloride to stop his heart.
On Thursday, the US Supreme Court cleared the way for Arkansas to execute its first inmate since 2005 by removing holds on its lethal injection procedure, which was carried out just 30 minutes before the death warrant expired, according to Reuters.
Arkansas authorities plan to execute eight more death row inmates in the next two weeks.
Lawyers for the eight convicts, including Lee, argued that the state's push to fast-track executions amounted to cruel and unusual punishment that violated the inmates' right to counsel, right to access the courts, and right to counsel during the execution process.
Another issue is Arkansas' use of midazolam, a sedative administered as part of a three-drug execution cocktail.
Lawyers for the inmates challenged the use of the drug, saying it could fail to sedate the inmate properly in some cases, resulting in extreme suffering during executions, thus breaching the Eighth Amendment of the US Constitution.
However, the US Supreme Court ruled in 2015 that the use of midazolam does not constitute "cruel and unusual" punishment.
On Monday, the Arkansas Supreme Court reassigned death penalty cases from Pulaski County Circuit Judge Wendell Griffen, who had participated in an anti-death penalty rallies and prohibited the state from using a lethal drug that a supplier said had been misleadingly procured.
McKesson Corporation, a leading pharmaceutical distributor, said it had been "misled" when it agreed to sell the vecuronium bromide to Arkansas, accusing the state of not disclosing its intent to use the drug for executions. The drug company also said the state failed to return the supply after promising that it would.
READ MORE: Another botched execution? Arizona inmate took 2 hours to die
Procuring and stockpiling lethal drugs has been challenging for many states that still have the death penalty. European laws effectively prohibit the sale of drugs for execution purposes, and many US companies also refuse to sell the chemicals for use in carrying out death sentences.
Many states have resorted to having pharmacists prepare the lethal cocktail themselves, prompting strong resistance from pharmacological societies.