'Wholesale disregard for customers' privacy': Bose Corp sued over spying headphone app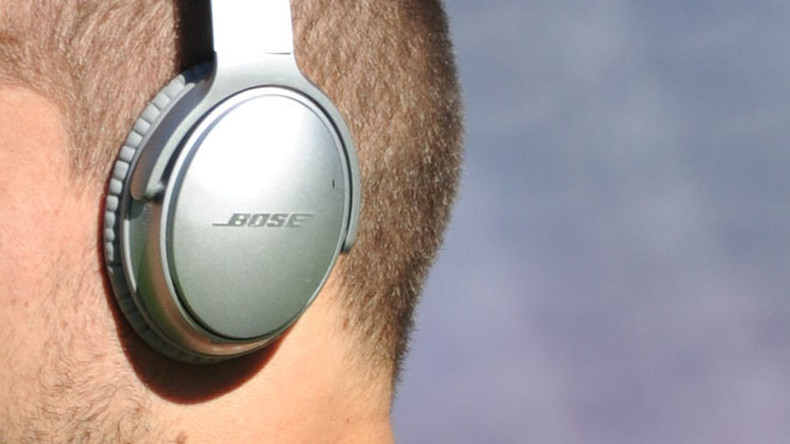 Massachusetts-based headphones and speakers producer, Bose Corp, is facing a lawsuit after being accused of covertly collecting data about its customers through a headphones app and then selling those private details to some data mining companies.
The lawsuit accuses the company of violating a number of privacy protection laws by "secretly collecting, transmitting and disclosing its customers' private music and audio selections to third parties." The complaint against the Framingham, Massachusetts-based company was filed by an Illinois resident, Kyle Zak, in federal court in Chicago on Tuesday.
Zak said he downloaded the free Bose Connect app available on Apple Inc or Google Play stores to his smartphone to "get the most out of your headphones." He also said that he provided the company with his name, email address and headphone serial number to download the app.

However, he was surprised when he found out that Bose sent "all available media information" from his smartphone to some third-party companies. The complainant particularly said that the app sent the customers' data to the Segment.io data mining company that said on its website it collects personal data and could send it "anywhere."

The complaint filed to the court says that audio choices, including both music and audio podcasts could offer "an incredible amount of insight" into customers' personalities, including their religious views, sexual orientation and even their state of health.
"For example, a person that listens to Muslim prayer services through his headphones or speakers is very likely a Muslim, a person that listens to the Ashamed, Confused, And In the Closet Podcast is very likely a homosexual in need of a support system, and a person that listens to The Body's HIV/AIDS Podcast is very likely an individual that has been diagnosed and is living with HIV or AIDS. None of the defendant's customers could have ever anticipated that these types of music and audio selections would be recorded and sent to, of all people, a third party data miner for analysis," the complaint says, as cited by the International Business Times.
"People should be uncomfortable with it," Christopher Dore, an attorney representing Zak, told Reuters, adding that "people put headphones on their head because they think it's private, but they can be giving out information they don't want to share."

He also stressed that the app's user service and privacy agreements do not mention anything about data collection. Zak now wants to stop the data collection by Bose Corp, which he says violates the US federal Wiretap Act and Illinois laws against eavesdropping and consumer fraud.

"Defendants' conduct demonstrates a wholesale disregard for consumer privacy rights," the complaint said, as cited by Reuters.

Zak is reportedly seeking millions of dollars in damages not only for himself but also for other buyers of headphones and speakers of various Bose models, including QuietComfort 35, QuietControl 30, SoundLink Around-Ear Wireless Headphones II, SoundLink Color II, SoundSport Wireless and SoundSport Pulse Wireless.
The company, which earlier said its annual sales exceed $3.5 billion, has not commented on the issue so far.
READ MORE: California bill seeks to crack down on 'smart' toys & potential spy gadgets
The lawsuit against Bose Corp is just the latest in a series of complaints against the companies seeking to boost profit by secretly collecting their customers' data to press more goods on them or just to sell it to some third parties.