Protests greet 'alt-right' speaker in Auburn, Alabama (VIDEO)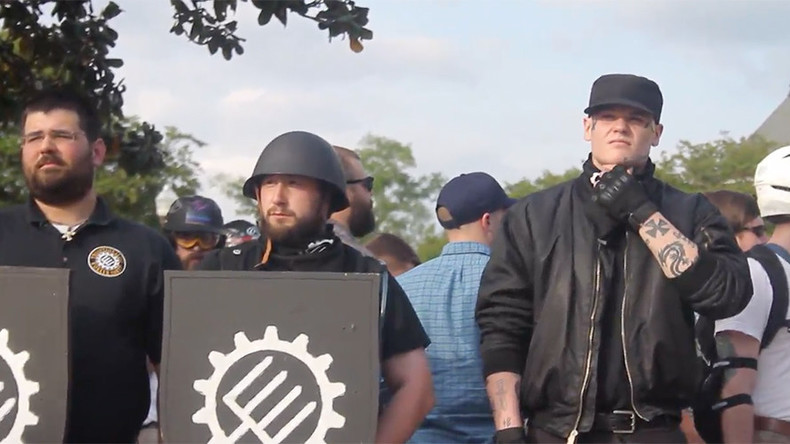 Student protesters and masked 'antifa' activists clashed with supporters of 'alt-right' leader Richard Spencer as he gave a speech at Auburn University, which tried to keep him away but was overruled by a federal judge on free speech grounds.
Spencer, who describes himself as a "white identitarian" and "alt-right," spoke to an audience of around 400 people at Foy Hall. Outside, three people were arrested for fighting. Video from the scene shows several bloodied people being led away by police.
Auburn students got into shouting matches with a group of Spencer's supporters from the Traditionalist Worker Party – a white nationalist organization – wearing helmets and carrying shields. Some 'antifa' activists who showed up to protest Spencer were ordered by police to take off their masks.
In the end, there was no large-scale melee of the kind that took place in Berkeley, California last week, when masked 'antifa' protesters clashed with a rally organized by supporters of US President Donald Trump.
The university initially approved Spencer's hall rental, but tried to cancel the event after critics warned that it would incite violence and endanger student safety, according to WSFA-TV.
The university condemned "attempts by uninvited, unaffiliated, off-campus groups and individuals to provoke conflict that is racially divisive and disruptive to our campus environment," according to a statement by Provost Timothy Boosinger.
"We will not allow the efforts of individuals or groups to undermine Auburn's core values of inclusion and diversity and challenge the ideals personified by the Auburn Creed," he added.
Cameron Padgett, who rented the auditorium for the event, sued the university on First Amendment grounds. On Tuesday, US District Judge W. Keith Watkins agreed, granting Spencer a restraining order against the university.
"Auburn is not allowed to pick and choose what views are to be represented in a facility open to the general public for holding meetings and giving and hearing speeches," Padgett said in the complaint.
In the end, Spencer spoke for about two hours, extolling the virtues of "white European Americans," the 'alt-right' and identity politics. At one point, however, even the supportive students jeered when he criticized the Southeastern Conference and college football, which is a cherished institution at Auburn and across the American South.