US 'politicians, bureaucrats & academics' caught in Turkey's failed coup attempt probe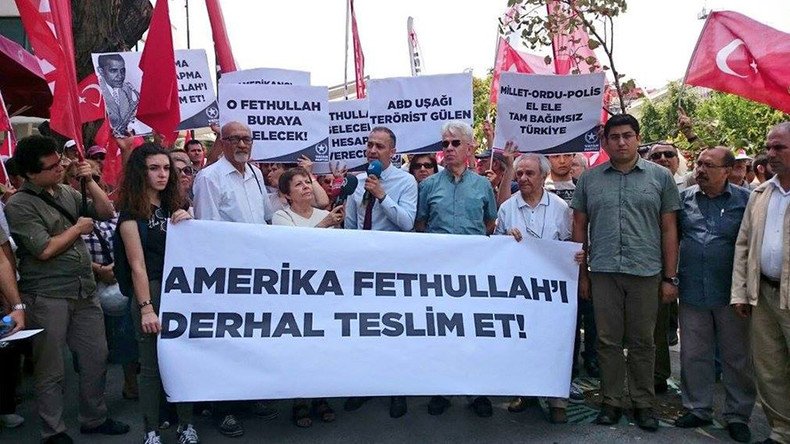 Turkey has launched an investigation to examine whether 17 prominent Americans could have links to the FETO movement of an exiled US-based cleric, Fethullah Gulen, which Ankara blames for last summer's failed coup attempt.
The Chief Public Prosecutor's Office launched the probe into 17 individuals including US politicians, bureaucrats, and academics after a number of Turkish attorneys filed a criminal complaint against these persons, local media report.
Former CIA Director John O. Brennan, New York Senator Chuck Schumer, US attorney for the Southern District of New York Preet Bharara, and Office of Foreign Assets Control (OFAC) President David Cohen are among the suspects, Anadolu reports.
Other American residents caught in the probe include Henri Barkey, Director of the Middle East Program at Wilson Center former CIA figure Graham E. Fuller, and President of the Turkic American Alliance (TAA) Faruk Taban.
Schumer, for instance, is being suspected of receiving millions of dollars from Gulen's movement and representing his organizational interests in the US.
Fuller, a former vice chairman of the National Intelligence Council at the CIA, allegedly was a sponsor for Gulen when he applied for a US residence permit.
The individuals are being accused of conspiracy to overthrow the Turkish government and are suspected to have links with FETO. Alleged evidence of their involvement with the Gulen movement has been submitted to the prosecutors, Turkish media report.
Gulen leads the popular Islamic transnational religious and social movement called Hizmet, believed to be funding numerous businesses, think tanks, private schools, and publishing houses around the world. Turkish President Recep Tayyip Erdogan has accused the prominent cleric and his group of masterminding the failed coup in Turkey on July 15, 2015.
READ MORE: No evidence exiled Turkish cleric Gulen behind anti-Erdogan coup – German intel
Gulen, once an Erdogan ally, is now living in self-imposed exile in Pennsylvania. Ankara has repeatedly demanded his extradition to investigate his alleged participation in the coup attempt, as well as that of Hizmet, known as FETO in Turkey, and considered a terrorist organization by Ankara. The 74-year-old has denied any involvement in the failed coup plot.
Suspected Gulen followers, known as Gulenists, allegedly infiltrated all layers of Turkish society and have been persecuted and hunted down in Turkey in a massive crackdown on Erdogan's opposition which followed the events in July 2016.
More than 100,000 people were fired from their jobs and around 30,000 detained, including teachers, journalists, security personnel and army officers.
You can share this story on social media: