'No hard evidence' entire Gulen movt. behind Turkey coup, only some members – UK report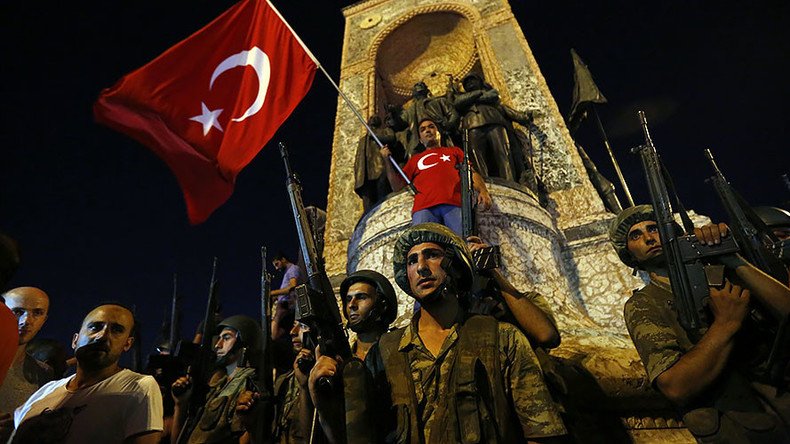 Some followers of exiled Turkish cleric Fethullah Gulen were involved in last summer's failed coup, yet evidence to suggest the entire Gulen movement or its leader were behind the plot is "anecdotal or circumstantial," a UK Parliament report states.
"There is a relative lack of hard, publicly-available evidence to prove that the Gulenists as an organization were responsible for the coup attempt in Turkey," the UK Parliament's Foreign Affairs Committee's (FCO) report released on Saturday states.
"While there is evidence to indicate that some individual Gulenists were involved, it is mostly anecdotal or circumstantial, sometimes premised on information from confessions or informants, and is – so far – inconclusive in relation to the organization as a whole or its leadership," it added.
Prominent Muslim cleric Fethullah Gulen leads a popular Islamic transnational religious and social movement called Hizmet, believed to be funding numerous businesses, think tanks, private schools, and publishing houses around the world. The man and his group were accused by Turkish President Recep Tayyip Erdogan of masterminding the failed coup in Turkey on July 15, 2015.
Gulen, once an Erdogan ally, is now living in self-imposed exile in Pennsylvania, with Ankara repeatedly demanding his extradition to Turkey to investigate his alleged participation in the coup attempt, as well as that of Hizmet, known as FETO in Turkey, and considered a terrorist organization by Ankara. Suspected Gulen followers, known as Gulenists, have been persecuted and hunted down in Turkey in a massive crackdown on Erdogan's opposition which followed the July 2016 events, with more than 100,000 people fired from their jobs and around 30,000 arrested, including teachers, security personnel, army officers, opposition politicians, and journalists.
Yet, according to the UK Parliament's report, nine months after the coup attempt, "neither the UK nor Turkish governments can point us to one person who has been found guilty by a court of involvement in the coup attempt, let alone anyone being found guilty with evidence of involvement with Gulenist motives." The report also questions Ankara's harsh response that followed the coup, adding to a wave of criticism from the international community over the blanket purges that engulfed the country in the past months.
"While the implementation of the State of Emergency is understandable given the events of the July coup attempt, the Turkish government needs to provide the international community with a clear indication that it is seeking a path to normalize the security situation," the paper says. It notes that otherwise, there is a risk of "people's rights being abused."
According to the inquiry, "the scale of the current purges – and the number of sectors that they affect – means that we cannot conclude that they are a necessary and proportionate response." That in return might affect Turkey's ability to fight enemies like Islamic State (IS, formerly ISIS/ISIL) and undermine its reputation, the report notes.
The head of German intelligence (BND) has also recently stated that there is no evidence that cleric Fethullah Gulen was behind the coup attempt in Turkey. Bruno Kahl told Der Spiegel last week that the military coup of July 2016 "was probably a welcome pretext" for the Turkish government to unleash a sweeping crackdown on thousands of people suspected of having connections with Fethullah Gulen.
The United States also appears unconvinced by "80 boxes of 'evidence' [given] to the US to achieve the extradition of Fethullah Gülen," as the US judiciary has not yet moved to deport him. Last September, Washington refused to extradite Gulen, citing lack of hard evidence, despite Erdogan warning the US it was "harboring a terrorist."
READ MORE: Snitching scandal: Denmark reprimands Turkish envoy over 'hotline to report on Erdogan critics'
However, a recent report by the Wall Street Journal states that the previous US administration did hold negotiations on Gulen's extradition. According to the publication, citing former CIA director James Woolsey, retired Army Lt. Mike Flynn, who is President Donald Trump's former national security adviser, met in September with top Turkish officials to discuss delivering the cleric to Ankara, bypassing US extradition procedures. Woolsey told the paper he found the conversation startling and possibly illegal, yet noted there were no specifics discussed.
Fethullah Gulen has repeatedly denied involvement in the coup attempt, and has condemned it. He also claimed that his supporters are being framed in what he says may have been a false-flag event, staged by Erdogan himself.
You can share this story on social media: