Norway grants asylum to Turkish military officers fearing persecution after coup attempt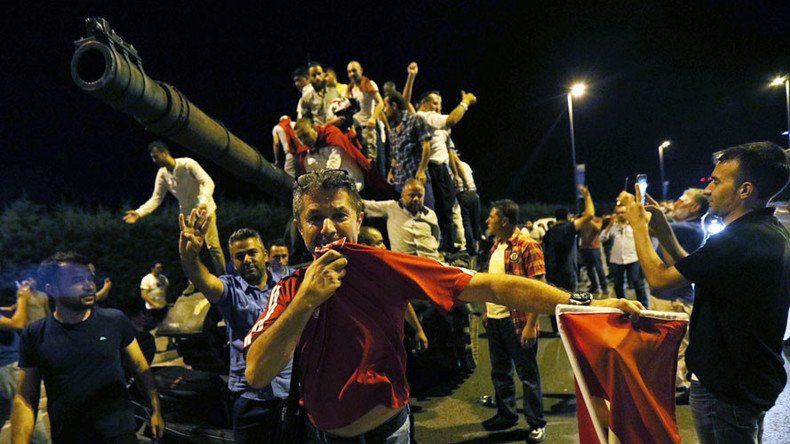 Four Turkish NATO officers and a military attaché were given asylum in Norway after ignoring orders to return home following last year's attempted coup. Turkey has summoned the Norwegian ambassador to Ankara for an explanation.
According to Norwegian media, citing Kjell M. Brygfjeld, the lawyer of the officers and the attaché, the Norwegian Directorate of Immigration accepted the asylum applications earlier this week.
The four officers and the military attaché, whose names have not been made public, had been stationed in Norway in July 2016, when a part of the Turkish military opposing the authority of President Recep Tayyip Erdogan tried to topple him. The coup attempt was quickly put down and followed by a mass crackdown on Turkish opposition figures accused of having links to the plotters.
The five Turkish nationals now granted asylum in Norway told Norwegian daily VG that back in January, they received notices of their removal from their jobs with demands to return to Turkey immediately. They refused and chose instead to apply for asylum in Norway.
While claiming they had nothing to do with the coup, the five said they feared persecution at home given the scale of the purges.
"It is impossible to return now. I am dismissed from my service in Norway, and my passport is cancelled. If I go back, I [will be] immediately arrested, and I risk torture and being forced to give false confessions. In Turkish prisons people die inexplicably," one of the officers told VG in an interview.
"I was a successful officer before the attempted coup, then everything changed and I was accused of being a terrorist. Now I feel safe in Norway after I got asylum," another officer stated.
Along with the soldiers and the military attaché, Norway also granted asylum to family members, enabling them all to acquire residence and work permits in the country without fear of extradition.
Reacting to the news, the Turkish Foreign Ministry summoned the Norwegian ambassador to Ankara, the spokesman for the foreign ministry said on Wednesday.
READ MORE: Europeans won't be able to 'walk safely' if EU's current attitude persists, Erdogan warns
"It is saddening and unacceptable that an ally country supported the efforts of individuals who have been stripped of their state duties to take advantage of the political, social and economic resources of their state instead of returning [them] to Turkey," the spokesman said in a statement, as cited by Reuters.
Turkish Deputy Prime Minister Numan Kurtulmuş also slammed Norway's decision, saying it was "protecting" Hizmet, an Islamic transnational religious and social movement led by US-based Turkish cleric Fetullah Gulen, known as FETÖ in Turkey and considered a terrorist organization by Ankara. The movement and Gulen himself are accused of orchestrating the July 2016 coup attempt.
"It's not possible to accept this. This is wrong. This means protecting and defending this gang known as FETÖ. We say that we do not accept this," Kurtulmuş told Anadolu news agency on Wednesday.
"The immediate extradition of these FETÖ bandits who have been seeking and will seek asylum in European countries is a necessity for the friendly relationship between Turkey and these countries," he stated.
Following the failed coup, around 40,000 people have been arrested in Turkey and more than 100,000 fired or suspended from their jobs in the military, civil service, and private sector. A number of Turkish diplomats and officers serving abroad have also sought asylum in EU states.
236 Turkish soldiers and diplomats have sought asylum in Greece in recent months. In January, the country even rejected Turkey's extradition request for eight former soldiers, citing concerns that they would not receive a fair trial in Turkey.
According to German media, citing Germany's Federal Office for Migration and Refugees (BAMF), following the coup, as many as 136 Turks with diplomatic passports have sought asylum in the country to avoid persecution at home.
Turkey's human rights record has been severely damaged by the post-coup crackdown. In recent months, Turkey has seen a wave of reprimands coming in from European states – one after the other promising to stall Turkey's EU accession talks unless Erdogan stopped the crackdown on his political opponents and abandoned talk of reinstating the death penalty for the coup plotters.
READ MORE: No evidence exiled Turkish cleric Gulen behind anti-Erdogan coup – German intel
A number of European countries, including Germany, the Netherlands, and Austria, have also recently voiced concerns about the constitutional reforms that will be up for a vote in an April referendum, which would hand Erdogan wide-reaching new powers if passed. A number of pro-Erdogan rallies and events at which top-tier Turkish officials were planning to address the large Turkish community living in the EU have been banned in some European cities, sparking a row between Ankara and some European states.
You can share this story on social media: