Snitching scandal: Denmark reprimands Turkish envoy over 'hotline to report on Erdogan critics'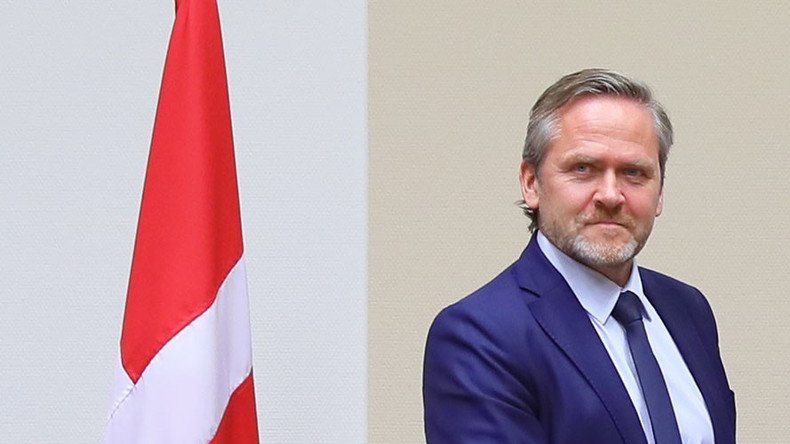 Denmark has summoned Turkey's charge d'affaires on the heels of a report that Danish citizens of Turkish origin might have been blacklisted and accused of treason on the basis of tips submitted by Turkish government sympathizers via a special hotline.
The Danish Foreign Ministry "made it clear that it saw with great concern reports alleging that citizens of Denmark report on the other citizens to the Turkish authorities in this manner because of a person's political affiliation," the ministry said in a statement on Monday, following a meeting between the Turkish charge d'affaires and the Danish ministry's foreign policy director, Lone Dencker Wisborg.
It further pointed out that any request coming from Turkish authorities to Danish citizens to unveil the identities of fellow Danes would be deemed "unacceptable," noting that an act of informing foreign governments, including that of Turkey, will be considered a criminal offense.
The reprimand follows the report in the Danish Berlingske newspaper on Sunday that at least 10 people contacted by the outlet, including former and current Danish MPs, have received online threats from apparent supporters of Turkish President Recep Tayyip Erdogan, vowing to denounce them to the Turkish authorities as critics of his government.
Among those who have been served with such warnings are former Danish MP Özlem Cekic and Lars Aslan Rasmussen, an MP from the Social Democratic Party. Cekic told Berlingske she had received a comment on Facebook from an unknown person, who messaged her that he would "report [Cekic] to the authorities in Turkey and hope that you are put on their clean-up list, so you get blacklisted."
Rasmussen, who was informed by some anonymous people through phone and Facebook, that his name had been reported to the Turkish authorities, now fears repercussions if he decides to visit his Turkish relatives.
"I take this very seriously. I would of course be very upset if I couldn't go there anymore because my father is from there," Rasmussen told the newspaper, as cited by AFP.
READ MORE: No evidence exiled Turkish cleric Gulen behind anti-Erdogan coup – German intel
Politicians have appeared to be not the only victims targeted in online intimidation campaign by alleged Erdogan supporters. A high school teacher, Mustafa Gezen, who last year publicly blasted Erdogan's policy on TV, has also been contacted by what he described "a man with a heavy Danish accent," who told him that the recording of the show in question was forwarded to the Turkish embassy in Denmark.
The Berlingske report claims that a special hotline, which informants use to submit their reports, is going directly to the Turkish presidential office. As an experiment, the newspaper dialed the number, pretending it was going to report a supporter of the self-exiled preacher Fethulla Gulen, whom Turkey considers to be a terrorist and a mastermind behind the foiled coup of July 15, 2016. The person whom the paper spoke to seemingly made no distinction between Turkish nationals and foreign citizens of Turkish origin, saying that "when the person comes to Turkey, it does not matter what nationality the person has."
READ MORE: 'Has Erdogan lost his mind?' Turkish leader's 'Nazi measures' jibe sparks fury in Berlin
The report has sparked outrage in the Foreign Ministry, with Danish Foreign Minister Anders Samuelsen calling the alleged conduct of the Turkish government "completely unacceptable," adding that it has nothing to do with gathering information on Danish individuals as "in principle informing is the concern of the police."
However, the Turkish charge d'affaires, who has been representing Turkey after the Turkish ambassador to Denmark who retired last week dismissed the report, insisting that the Turkish government does not have any special system in place to track or detect its critics, also denying the existence of a "blacklist" of Danish citizens who are barred from entering or exiting Turkey.
The special hotline, he argued, was only to be used to confer information that is terrorism-related.
Despite the Turkish government's assertions, Samuelsen promised to "follow the case closely" after the meeting.
Tensions have been running high between the two countries since Danish Prime Minister Lars Løkke Rasmussen asked his Turkish counterpart, Binali Yıldırım, to delay a scheduled visit due to then unfolding diplomatic spat between Turkey and the Netherlands, during which Erdogan accused Dutch authorities of "Nazi practices" for not allowing a rally of his supporters in the Netherlands. The Dutch responded by expelling Turkish minister Fatma Betul Sayan Kaya to Germany after barring her from entering the Turkish consulate in Rotterdam to stage a pro-Erdogan rally.
"Such a visit could not take place in light of the current attacks by Turkey against the Netherlands. Therefore, I proposed to my Turkish colleague to postpone our meeting," Rasmussen said at the time.
You can share this story on social media: