Angry Turks pelt Dutch consulate in Istanbul with eggs (VIDEO)
Published time: 12 Mar, 2017 16:17
Edited time: 25 Jan, 2018 11:27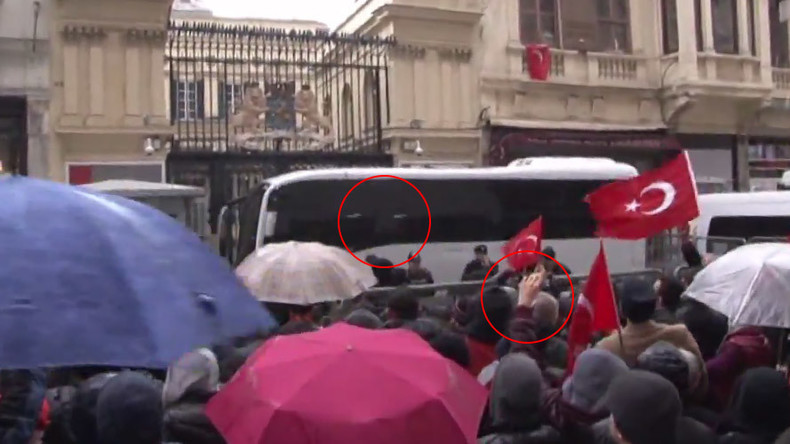 Protesters have pelted the Dutch consulate in Istanbul with eggs after the Netherlands barred Turkey's foreign minister from landing in Rotterdam and deported its family minister.
Hundreds of people turned out despite the rain carrying Turkish national flags and placards reading "yes," in reference to the country's upcoming constitutional referendum on expanding the powers of President Recep Tayyip Erdogan, reports Ruptly news agency.
Some also chanted anti-Dutch slogans and pelted the consulate building with eggs.
A similar rally, which also attracted hundreds of participants, took place in front of the Dutch embassy in the capital, Ankara, Anadolu news agency reported.
READ MORE: Turkish PM's visit to Denmark postponed over referendum rallies row
On Saturday, Foreign Minister Mevlut Cavusoglu was to attend a "Yes" campaign gathering in Rotterdam ahead of Turkey's referendum set for April. The referendum on constitutional changes will look to expand President Recep Tayyip Erdogan's powers and Ankara hopes to secure the support of the vast Turkish diaspora in Europe. In the Netherlands alone, there were almost 400,000 ethnic Turks in 2013, according to official statistics.
After Cavusoglu was barred from landing in Rotterdam by the Dutch authorities, Family Minister Fatma Betul Sayan Kaya, who came from Germany, was denied entrance to the Turkish consulate in the city.
The move led to Turkish protests in Rotterdam and at home and a rapid escalation of tensions between the two nations.
Ankara said that the Dutch ambassador to Turkey, who was on leave, shouldn't return to the country "for a while."
On Sunday, Erdogan also blasted the Netherlands as "Nazis" for their treatment of the ministers, saying that the Dutch will pay the price.
He also urged unspecified international organizations to put sanctions on the Netherlands over its actions.
READ MORE: Erdogan accuses Netherlands of 'Nazism,' urges intl sanctions as diplomatic row deepens
Dutch Prime Minister Mark Rutte called upon Turkey to apologize over what he called "unacceptable" comments, warning that the Netherlands would take countermeasures if the rhetoric coming from Ankara does not change.