Pentagon calls for 5% cut in F-35 program – report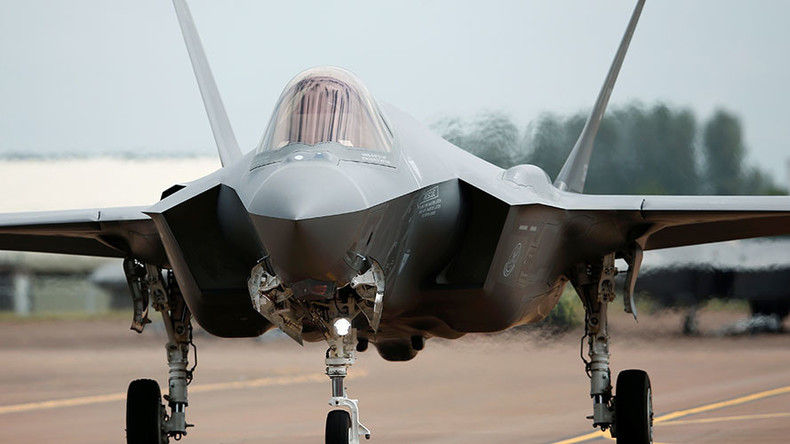 Amid mounting pressure to rein in costs, the Pentagon reportedly wants Lockheed Martin to lower their price for their next batch of F-35 stealth fighter jets, the most expensive weapons program in US history.
The Pentagon is looking to shave five to seven percent from their next order of 130 new F-35 jets, which could save the government an estimated $660 million, sources told Reuters. The price reduction is purported to come from 100 F-35As that are being purchased.
There are three models of F-35: the F-35A, which is designed to be the smallest and lightest for the Air Force and US allies, the F-35B, which is designed to handle vertical landings for the Marine Corps, and the F-35C, which is designed to take off and land from aircraft carriers for the Navy.
The Department of Defense's last contract purchased 90 F-35 fighter jets for $8.5 billion, bringing the price of the stealthy war machines down to $94.6 million a piece from an initial price of $102 million.
In February, Lieutenant General Chris Bogdan, head of the F-35 Joint Strike Fighter program office, testified in Congress that it would be possible to drop the price of the F-35 to as low as $80 million by 2019.
"We believe we are on track to continue to reduce the price of the F-35 such that in FY-19, with an engine, including all fees, the F-35A model will cost between $80 - $85 million," Bogdan said, according to the International Business Times.
President Donald Trump has criticized the F-35 program for being too expensive. In December, Trump tweeted that the cost of the program was "out of control," and said that he asked Boeing to price out a "comparable F-18 Super Hornet!"