San Bernardino gunman was pastor, Navy vet with record of violence
The "deeply religious man" who entered a California school to kill his estranged wife was in a seemingly happy relationship. In reality, Cedric Anderson was "paranoid and possessive" and in a deteriorating marriage, family members said.
On Monday, Anderson, 53, received clearance from the front office of North Park Elementary School in San Bernardino, California, to access to a classroom to give something to his wife Karen Elaine Smith, 53, who taught special-education children.
Once inside, Anderson quickly opened fire, police said, killing Smith and Jonathan Martinez, an 8-year-old boy standing near her.
Read more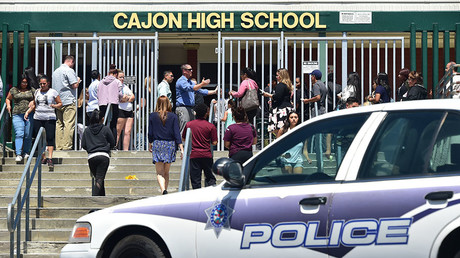 A 9-year-old boy was also shot but is in stable condition, according to reports. Anderson then reloaded and turned his .357 revolver on himself.
Anderson and Smith were married in late January after four years of friendship, Smith's mother, Irma Sykes, told the Los Angeles Times.
Anderson often posted on social media about their marriage and his faith, referring to Smith as his "angel." His Facebook page, which is no longer available, featured several posts and videos about is love for Smith all the way up to March 15, the date of his last public post, according to reports.
After moving in with Smith, Anderson's demeanor changed for the worse, Sykes said, and Smith was considering divorce.
"She thought she had a wonderful husband, but she found out he was not wonderful at all," Sykes said. "He had other motives. She left him and that's where the trouble began."
Smith, a devoted Christian who had four children from a previous marriage, had been a teacher for about ten years and was motivated to help children with autism and learning disabilities, the Times reported.
One of Smith's adult children, Joshua, said his mother was a "genuinely loving and caring person."
Anderson, however, was "different" at first and later became "paranoid and possessive," Joshua Smith told the Washington Post. This situation led his mother to leave Anderson shortly after their wedding, he said.
According to San Bernardino Police Chief Jarrod Burguan, Anderson had a criminal history. The maintenance technician had faced weapons charges and was accused of domestic violence in a previous marriage. He was charged in 2013 with assault and battery, brandishing a gun and disturbing the peace, according to Los Angeles County Superior Court records reported by the Times. Those charges were dismissed in 2014.
In 1993, Anderson was charged with two misdemeanor counts of battery in Kern County, California, but he was eventually exonerated after the charges were dismissed.
Anderson, who frequently posted on Facebook about guns, spent at least eight years in the military and lived in California, Georgia and Nevada. Around 2000, he was featured in a local news segment about housing fees at Nellis Air Force Base.
Local law enforcement, including a SWAT team, secured a Riverside home associated with Anderson on Monday afternoon, the Press-Enterprise reported. One car in the driveway had a "United States Navy" bumper sticker.
The veteran was also a pastor who sometimes preached on the radio and attended community meetings, according to Najee Ali, executive director of Project Islamic Hope.
"He was a deeply religious man," Ali said. "There was never any signs of this kind of violence … on his Facebook he even criticized a man for attacking a woman."
His marriage to Smith seemed happy, neighbors and others said, which likely allowed Anderson safe passage into the school.
"He killed her, and he killed himself," said Sykes, Smith's mother. "And I want to see what he's going to say to God about that."
The school's staff followed all the proper entry procedures, including asking for identification, according to San Bernardino City Unified School District Superintendent Dale Marsden. Security at the school was increased following the terrorist attack at a San Bernardino government building in December 2015.