California man pleads guilty to providing San Bernardino attack rifles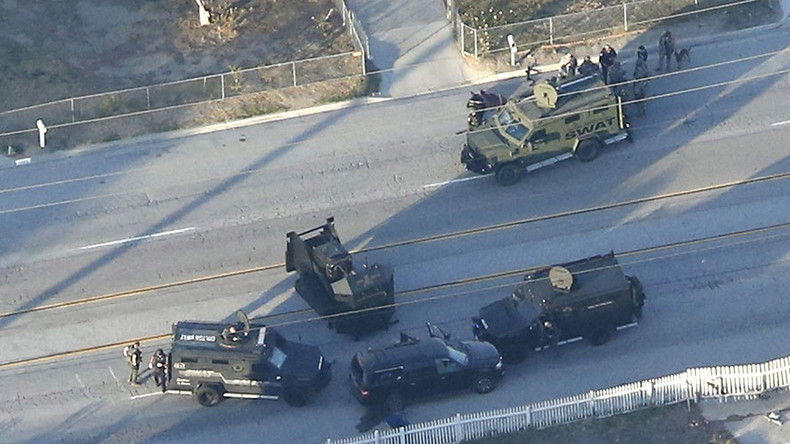 A California man has pleaded guilty to providing the high-powered rifles used to kill 14 people in the San Bernardino terror attack.
Enrique Marquez Jr, 25, pleaded guilty to conspiring with one of the San Bernardino shooters to plot other mass killings that were never carried out, and to providing material support to terrorists.
READ MORE: From iPhones to Trump, ripples of San Bernardino
The plea agreement between Marquez - a reported longtime friend of one of the attackers - and prosecutors was accepted by a federal judge in Riverside, California, on Thursday reports AP.
Husband and wife, Syed Rizwan Farook and Tashfeen Malik, carried out the attack in December 2015 at a San Bernardino County employee holiday party that killed 14 people and injured 22 others.
The radicalized couple, who were loyal to the Islamic State (IS, formerly ISIS/ISIL), were killed in a gunfight with authorities later that day.
READ MORE: FBI blames 'hostile entities' on decision to withhold information on San Bernardino iPhone hack
US-born Farook's Pakistani-born wife came to the US in 2014 on a K-1 'fiancée visa', and according to the federal investigation into the attack, the couple "self-radicalized" after reading militant Islamic literature online.
Farook's brother Syed Raheel and his sister-in-law Tatiana Farook, both pleaded guilty last week to conspiracy to commit immigration fraud.
Syed for setting up a sham marriage between gun supplier Marquez and his Russian sister-in-law Mariya Chernykh, and Tatiana for lying to federal agents in legal documents.