Potential smart bomb sales to Saudi Arabia prompt questions from US lawmakers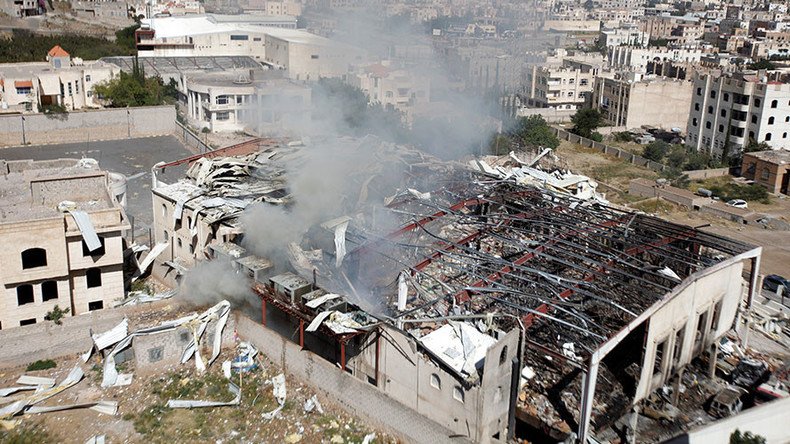 A group of US lawmakers wrote to the presidential administration asking for more information about a potential sale of smart bombs, aka precision-guided munitions (PGM), to Saudi Arabia. They expressed concern over widespread civilian casualties in Yemen.
The letter, dated April 6, is addressed to Defense Secretary James Mattis and Secretary of State Rex Tillerson.
"We write to request information related to the operational conduct of the Royal Saudi Air Force in Yemen," the letter states.
The letter noted that the previous administration under President Obama made the decision in December 2016 "to halt a planned sale of precision-guided munitions [PGM] to Saudi Arabia due to concerns over widespread civilian casualties and significant deficiencies in RSAF's targeting capabilities."
"This decision was the result of an internal review launched after the United Nations and a number of human rights organizations documented a series of RSAF airstrikes on civilian targets, including hospitals, markets, schools, a wedding and a large funeral."
The lawmakers cited "recent reports" which suggest that the State Department "has now reversed course and removed the suspension on these PGM sales."
"It is in our national security interest – as well as that of our Saudi partners – to ensure that the RSAF has the ability to avoid civilian casualties before the US sells them any additional air-to-ground munitions."
The letter asks if RSAF is abiding US provided "no-strike lists" and if there have been any violations. It also asks the US administration to provide details on these no-strike lists, including "the number and types of targets, the dates of delivery of each distinct list to the Saudi Arabia-led Coalition, and the frequency with which the overall list is updated."
The authors also requested information on US military personnel currently working with the Coalition Command and "their specific roles."
In December, reports emerged that Washington was holding up sales of some weaponry to Saudi Arabia due to concerns over civilian casualties in Yemen. Guidance systems manufactured by Raytheon Co. and worth "hundreds of millions of dollars" will be put on hold due to "systemic, endemic" problems with Saudi targeting in Yemen, an Obama administration official who spoke on condition of anonymity told Reuters. http://www.reuters.com/article/us-usa-saudiarabia-yemen-exclusive-idUSKBN1421UK
Saudi Arabia launched a military operation against its southern neighbor in March 2015, backing the ousted President Abdrabbuh Mansur Hadi against the predominantly Shiite Houthis who ousted him. Riyadh claims the Houthis are acting as proxies of Iran.
In January this year, UN said that the death toll in the Yemeni conflict had surpassed 10,000.
The US has assisted the Saudi war effort through deploying a naval squadron off Yemeni coast, refueling Saudi airplanes, and even sending US Special Forces into Yemen's around a key port city in Hadramaut province in May 2016.
READ MORE: US 'boots on the ground' now in Yemen – Pentagon
However, then-President Barack Obama ordered a review of US involvement after a Saudi airstrike in October killed over 140 people at a funeral in the Yemeni capital, Sanaa. Fragments of US-made bombs were reportedly found in the rubble.
READ MORE: Saudi arms imports triple amid Yemen campaign, US & Europe top suppliers to Mid-East – report
In February, the Stockholm International Peace Research Institute (SIPRI) said that Saudi Arabia arms imports increased 212 percent compared with 2007–11. The report added that almost half of US arms exports went to the Middle East.
You can share this story on social media: