Neil Gorsuch sworn in as US Supreme Court justice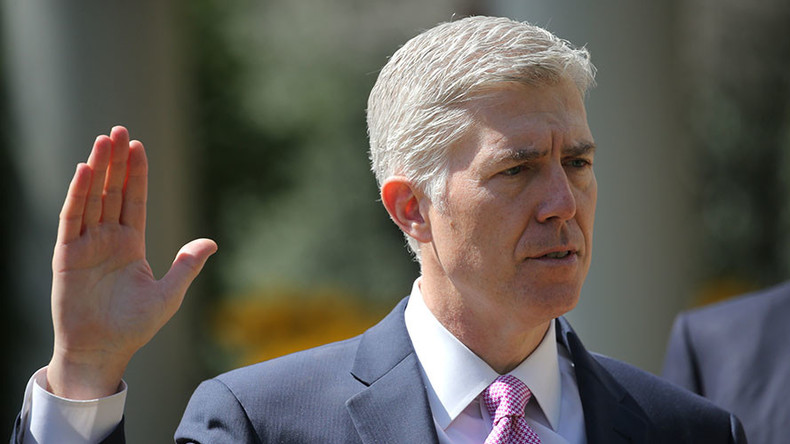 Colorado Judge Neil Gorsuch was sworn in as the associate Justice of the US Supreme Court, and took up the seat vacated by last year's death of Justice Antonin Scalia. In a historic first, Justice Anthony Kennedy administered the oath to his former clerk.
Scalia's widow and son were among the guests at the White House Rose Garden on Monday, as Gorsuch took the judicial oath of office. He had already taken the federal oath, administered by Chief Justice John Roberts at the Supreme Court.
"I will never forget that the seat I inherit today is of a great, great man," Gorsuch said after the ceremony. "I promise you, I will do all my powers permit to be a faithful servant of the Constitution and the laws of this country."
President Donald Trump was on hand for the ceremony, and spoke before the swearing-in.
"I have no doubt that you'll rise to the occasion and that the decisions you make will not only protect our Constitution today, but for many generations of Americans to come," Trump said, adding that Gorsuch will "go down as one of the truly great justices in the history of the US Supreme Court."
Gorsuch's confirmation process was a bitter battle in the Senate, as the opposition Democrats blamed the Republican majority for refusing to consider President Barack Obama's nomination to the court, Merrick Garland, last year and accused Gorsuch of being "too extreme."
During the Senate confirmation hearings, Democrats grilled Gorsuch on a variety of subjects, from wiretapping and torture to guns and abortion. He stressed judicial independence and that no man is above the law, even the president.
Last week, the Democratic leadership announced they had 41 votes to filibuster Gorsuch and urged Trump to "change the nominee." Senate Majority Leader Mitch McConnell (R-Kentucky) responded by invoking the "nuclear option" and changing the Senate rule requiring three-fifths of the votes to confirm a Supreme Court justice. The Democrats had done away with the filibusters for executive and judicial nominees in 2013, but kept the Supreme Court rule in place.
Gorsuch was confirmed on Thursday, with a vote of 54 senators in favor and 45 opposed.
Former Senate Majority Leader Trent Lott, a Mississippi Republican, said Gorsuch got confirmed because he mostly kept quiet. "Maybe he can learn a lesson from [First Lady] Melania [Trump]. You never see her, she says nothing, and her approval ratings are over 50 percent," Lott told the Boston Globe.
Gorsuch becomes the 113th Justice to serve on the Supreme Court since its establishment in 1789 – and the first former clerk to serve alongside his former boss, Justice Kennedy.