Supreme Court nominee Gorsuch stresses 'judicial independence' in Senate confirmation hearing
Published time: 20 Mar, 2017 20:55
Edited time: 22 Mar, 2017 12:18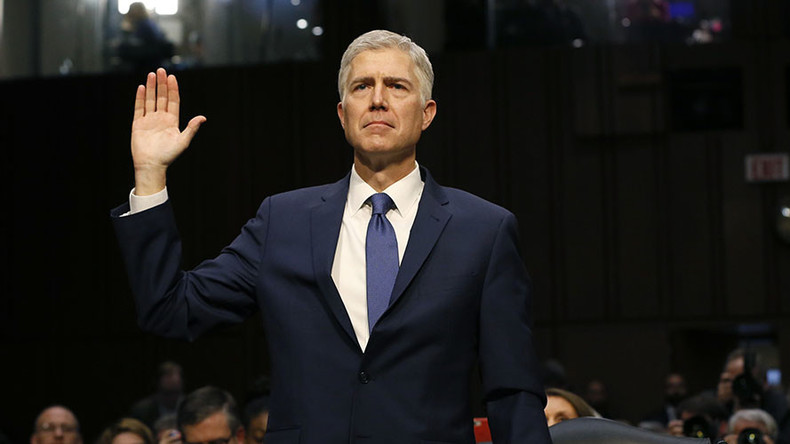 The split between Republicans and Democrats was marked at the beginning of the Senate confirmation hearings for President Trump's Supreme Court nominee Neil Gorsuch, the first of four days of the hearing. Gorsuch emphasized "the importance of an independent judiciary."
"Under our Constitution, it is for the body, the people's representatives, to make new laws. For the executive to ensure those laws are faithfully enforced. And for neutral and independent judges to apply the law in the people's disputes," Judge Gorsuch, 49, told the Senate Judiciary Committee on Monday.
It has been 13 months since Justice Antonin Scalia's death, and Congressional Republicans refused for 10 months to act on Barack Obama's nominee for Supreme Court, Merrick Garland. That refusal colored the beginning of the hearings for Supreme Court nominee. Judge Gorsuch is a widely respected yet strongly conservative member of the Denver-based 10th US Circuit of Appeals with a legal philosophy akin to Scalia's, who has spent 10 years on the federal bench, according to AP.
Thirty-nine percent of Americans said they had a positive first impression of Gorsuch. That's compared to 24 percent who expressed a negative view of the nominee, according to a CNN/Opinion Research Corporation (ORC) poll conducted in February a week after Trump announced him as his Supreme Court nominee.
Republicans were most in favor of Gorsuch's appointment, with 84 percent saying the Senate should confirm him. Democrats were mostly opposed, with 61 percent saying he should not be confirmed.
Even so, 51 percent of those surveyed said Senate Democrats – most of whom oppose Gorsuch's nomination – would be justified in using Senate procedures such as a filibuster to "prevent an up-or-down vote on the nominee." Forty-one percent said they would not be justified in doing so.
Almost half (49 percent) said Gorsuch's ideological position is "about right," while 34 percent said they think he will be too conservative. The majority of Democrats (53 percent) said they believe he will be too conservative.
The panel's chairman, Republican Chuck Grassley (Iowa) said his panel will likely cast a vote on the Supreme Court nominee in two weeks, on April 3, with a first vote scheduled for March 27.

"In recent months, I've heard that 'now more than ever' we need a justice who is independent, and who respects the separation of powers," Senator Grassley opined. "Some of my colleagues seem to have rediscovered an appreciation for the need to confine each branch of government to its proper sphere."
Grassley praised Gorsuch's record, saying that "his grasp of the separation of powers – including judicial independence – enlivens his body of work."
Grassley was quick to accuse Democrats of already engaging in partisan politics.
Senator Dianne Feinstein (D, California) said the Constitution was a living document, and she was going to determine whether Gorsuch was a reasonable mainstream conservative and "whether he will protect the rights of all Americans."
Senator Patrick Leahy criticized Gorsuch because of his support from conservative interest groups the Vermont lawmaker called "anti-choice, anti-environment and pro-corporate."
"Senate Republicans made a big show last year about respecting the vote of the American people in this process," said Senate Patrick Leahy (D, Vermont). "Now they are arguing that the Senate should rubber stamp a nominee selected by extreme interest groups and nominated by a president who lost the popular vote by nearly 3 million votes."
President Donald Trump nominated Gorsuch in February. During his campaign Trump talked about nominating a judge "who would overturn Roe vs. Wade," the Supreme Court decision that respected a woman's right to privacy under the Fourteenth Amendment and extended a woman's right to have an abortion over states' rights.
Republicans sought to emphasize that Gorsuch was not President Trump.
"The nominee before us today is not President Trump," said Senator Thom Tillis (R, North Carolina). "The nominee before us today is not Leader MConnell. So I hope this nomination hearing focuses on the person before us."
Senator Dick Durbin, (D, Illinois) repeated a comment by White House chief of staff Reince Preibus last month that Gorsuch "represents the type of judge that [has] the vision of Donald Trump."
"I want to hear from you why Mr. Priebus would say that," Durbin said to Gorsuch.
"Most Americans question whether we need a Supreme Court justice with the vision of Donald Trump."
Many of the senators used their opening remarks to emphasize judicial independence.
"The president has gravely undermined it and that is why I believe you have a special responsibility here this week, which is to advocate and defend the independence of our judiciary against those kinds of attacks," said Sen. Richard Blumenthal (D, Conn). "It isn't enough to do it in the privacy of my office or our colleagues behind our closed doors. I really think our system requires and demands that you it publicly and explicitly and directly."
Several of the more liberal Senate Democrats have already announced plans to oppose Gorsuch and seek to block his nomination from coming to a final vote.
Gorsuch will need 60 out of 100 votes to advance his nomination. Republicans control the Senate 52-48.