'No man is above the law': SCOTUS nominee Gorsuch talks torture, guns, wiretaps and sexism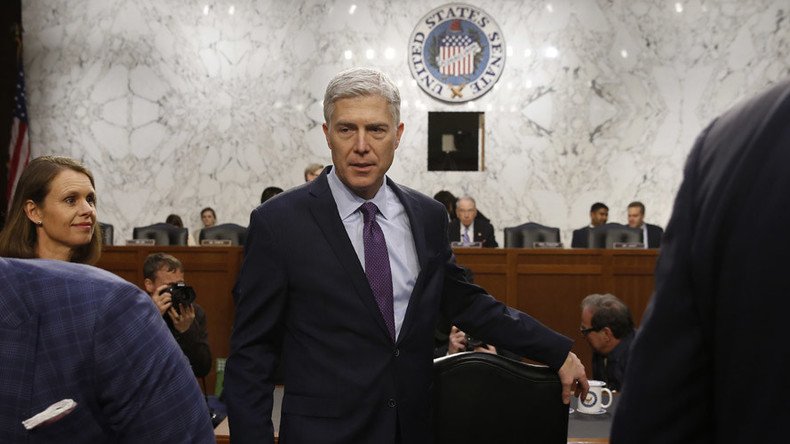 Republicans showed unanimous support for Judge Neil Gorsuch during the second day of confirmation hearings for the US Supreme Court, while Democrats pressed him on his previous rulings and opinions about guns, abortion and torture.
Gorsuch is a 10th circuit court judge, nominated by Trump in January to fill the vacancy on the Supreme Court created by the passing of Justice Antonin Scalia in February 2016.
Questions of enhanced interrogation techniques were raised on Tuesday during an exchange with Senator Lindsey Graham (R-South Carolina), who asked what would happen if President Donald Trump tried to reinstate waterboarding, the now-banned technique that he embraced on the campaign trail. Graham suggested that Trump "might get impeached" if he tried to do so.
"Senator, the impeachment powers belongs to this body," Gorsuch said. Pressed by Graham on whether Trump could be subject to prosecution, Gorsuch said "No man is above the law, no man."
Senator Chuck Grassley (R-Iowa) asked Gorsuch about the impartiality of judges and judicial independence.
"People who recognize that there is no such thing as a Republican or democratic judge, there are just judges," Gorsuch replied. "I decide cases, I listen to the arguments, I read the briefs, and I listen to my colleagues and the lawyers in the well… keeping an open mind as much as I humanly can."
Sen. Dianne Feinstein (D-California) was curious about the Supreme Court's 2008 ruling in District of Columbia v. Heller, affirming the right of people to keep guns in their homes for self-defense.
"Whatever is in Heller is the law and I follow the law," Gorsuch replied. "It's not a matter of agreeing or disagreeing."
Feinstein also pressed Gorsuch on his past rulings in favor of corporations and neglecting the "little guy."
"I follow the law wherever it leads," the judge responded.
Senator Patrick Leahy (D-Vermont) asked Gorsuch about President Bush's warrantless surveillance program, which resulted in the illegal collection of thousands of American's communications. Justice Department lawyer John Yoo had justified the dragnet on the grounds that Congress could not infringe on the president's inherent power to conduct national security searches.
"Do you believe that program was justified?" Leahy asked.
"As a judge, before to try to decide a question like that, I'd want briefs and arguments," said Gorsuch. "I would not want off an off-the-cuff opinion."
Senator Dick Durbin (D- Illinois) asked about the recent allegation by a former student at the University of Colorado Law School, who had written to the committee saying that Gorsuch had implied many female job applicants unfairly manipulated companies by hiding plans to begin families.
Gorsuch says he was just reading out of an ethics law textbook that asked what a woman would do if an older male partner asked if she was intended to get pregnant soon. Gorsuch testified that he told the students that one can answer yes and not get the job, lie, or push back.
He said he is "shocked" that women are still asked that question.
"We talk about the pros and cons in the classroom," Gorsuch told the committee, adding that he had asked the women in the class to raise their hands if they were asked questions like that when seeking employment .
NPR identified the student as Jennifer Sisk, an ex-staffer for former Senator Mark Udall (D-Colorado) and employee of the Interior Department during the Obama administration.


You can share this story on social media: