New York Legislature approves free tuition at state colleges for middle class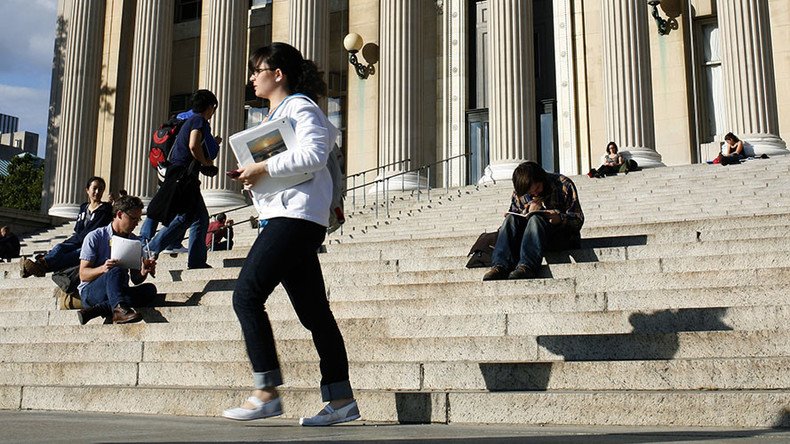 The New York Legislature has approved a state budget that would make the Empire State the first in the US to offer free tuition to public colleges for middle-class students from families earning less than $125,000 per year.
Depending on participation, the tuition-free plan championed by Democratic Governor Andrew Cuomo is estimated to cost $163 million by 2019, according to the governor's office. The program will begin this fall, with about a three-year development period to follow.
Potential undergraduate students who are New York residents from families earning under a phased-in income cap will be eligible for the tuition initiative, known as the Excelsior Scholarship Program. In the first year, the cap will be no more than $100,000 per year, then $110,000 in 2018, and $125,000 in 2019.
The program pertains to all State University of New York (SUNY) or City University of New York (CUNY) schools. Annual tuition at four-year state schools is currently $6,470 and around $4,350 at two-year community colleges.
The plan does not cover room and board, and students would have to meet grade-point and class load rules to maintain enrollment. Students would be required to take 30 credits a year to maintain the scholarship, which would exclude part-time students.
The tuition initiative could affect more than 940,000 qualifying families and individuals in New York, the Cuomo administration said.
The State Senate approved the budget Sunday night following the Assembly's approval on Saturday. Cuomo is expected to sign the legislation.
"Today, college is what high school was – it should always be an option even if you can't afford it," Cuomo said in a statement. "The Excelsior Scholarship will make college accessible to thousands of working and middle class students, and shows the difference that government can make."
SUNY Chairman Carl McCall and Chancellor Nancy Zimpher praised the plan in a statement, calling it "truly ground-breaking."
Pell Grants and New York Tuition Assistance grants already allow for more than 60 percent of CUNY students and about half of full-time SUNY students to attend tuition-free college. These students would not be eligible for the newly-passed scholarship.
The budget approved by the State Legislature also includes a raise in the age that a juvenile can be prosecuted as an adult to age 17 by October 2018, and to age 18 a year later. In addition, those aged 16 and 17 will no longer be prosecuted in adult court or imprisoned in adult prisons or jails.
You can share this story on social media: