Millennials earn less, owe more than Baby Boomers at same age – report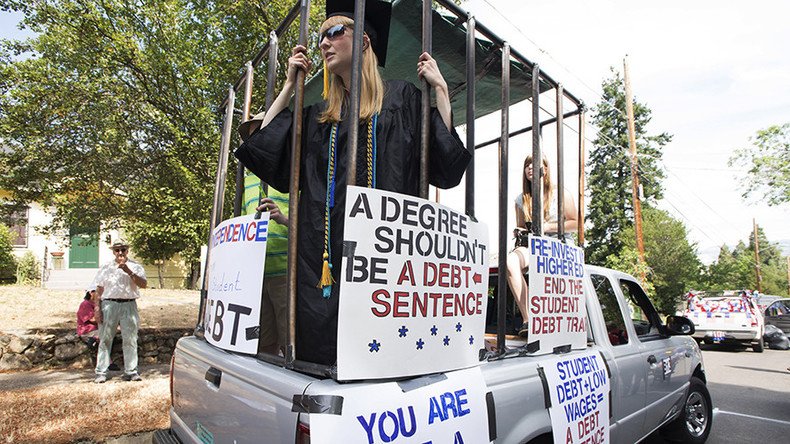 Young people have half the wealth and earn 20 percent less than Baby Boomers did when they were at the same stage in life, despite being more educated than other generations of young adults, according to a new report.
Analyzing data from the Federal Reserve, the advocacy group Young Invincibles released a report Friday detailing the "significant generational declines in financial security between the Millennial and Baby Boomer generations."
The group compared young adults aged 25 to 34 in 1989, to those of the same age in 2013. After adjusting for inflation, analysts found that the median income for young people dropped by $10,000, from $50,910 in 1989, to $40,581 in 2013.
In addition, young people's net wealth declined by 56 percent in the span of 25 years, partly due to the rising cost of a college education. The report found that the average tuition at a four-year public college nearly tripled from $3,454 in 1989, to $9,410.30.
Young people who earned a college degree were not protected from a decline in financial security, as the average student who took out student loans saw their assets decline 71 percent, while non-debtors only saw their net-wealth decline 45 percent.
College graduates in 2013 also earned 25 percent less than Baby Boomers with a degree in 1989, which is equivalent to the income earned by a high school graduate at the time.
Despite the gap, the report finds that in the long run, "a college degree – with or without debt – is still worth it."
Millennials with a degree have better paying jobs, are more likely to own a home, and have more retirement savings than their non-college graduate peers, the report finds.
While income has gone down for young people across the board, white millennials are still earning significantly more than their African-American and Latino peers.
Today, young African-Americans earn 57 cents for every dollar earned by their white peers, and they own a tenth of the assets. Since the 1980s, young African-Americans have lost significant ground in their net-wealth, only having a third of the assets that their Boomer predecessors had.
Latinos fared better, earning 64 cents for every dollar their white peers earn. They also have a more secure financial foothold than Latinos of the same age did 25 years ago, earning 29 percent more, with more retirement savings, and more net wealth.
African-American and Latino young adults currently own homes at about half the rate of their white peers.
The report shows a new trend, where young people are earning less than their parents and grandparents.
"These findings uncover that Millennials have been set back significantly, by not just the Great Recession but by decades-long financial trends," Tom Allison, Deputy Director of Policy and Research for Young Invincibles, writes on their site.
"In many ways, the situation facing young adults today forecasts the financial challenges ahead for the nation," he said.
You can share this story on social media: