'Goliath' Mexican drug kingpin 'El Mochomo' sentenced to life in prison, fined $500mn
Published time: 6 Apr, 2017 20:11
Edited time: 7 Apr, 2017 09:47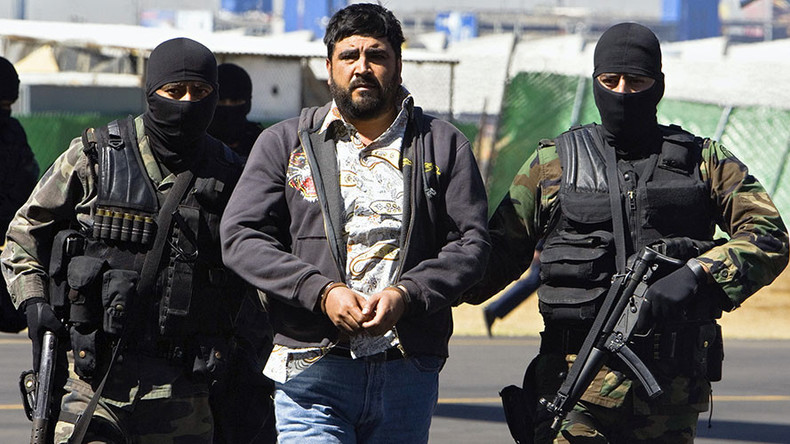 Alfredo 'El Mochomo' Beltran Leyva, one of the leaders of a ruthless Mexican drug cartel has been sentenced to life in prison and ordered to forfeit $529,200,000 for his role in international drug trafficking.
"Alfredo Beltran Leyva is one of the 'Goliaths' of Mexican drug traffickers known for his savage business tactics and responsible for flooding the United States with illegal drugs," said Special Agent in Charge James J. Hunt of the Drug Enforcement Administration (DEA), according to a Department of Justice statement.
On January 21, 2008, Beltran Leyva was captured in Culiacán in the state of Sinaloa by Mexican Special Forces and arrested on charges of directing drug trafficking operations, money laundering and bribery of public officials.
READ MORE: 'El Chapo' facing life in 'Alcatraz of the Rockies' as legal journey begins
Beltran Leyva was then indicted by US authorities on August 24, 2012, extradited from Mexico to the United States on November 15, 2014, and pleaded guilty to drug trafficking charges on Feb. 23, 2016, in Washington, D.C.
A former ally of the infamous Sinaloa cartel, headed by "El Chapo" Guzmán, Beltran Leyva's arrest and subsequent extradition triggered a bloody gang war which raged across Mexico.
Mochomo's cartel imported cocaine and methamphetamine from South America via land, air and sea and then moved it to Culiacán, Sinaloa before transporting it across the border to the United States. This city was the key point in which tens of billions of dollars of drug money was both stored and laundered.
READ MORE: El Chapo's cartel may be behind deadly raid on army convoy escorting suspect in Mexico
"For well over a decade, the defendant commanded a major Mexican drug trafficking organization that imported ton-quantities of cocaine and methamphetamine into the United States and led a campaign of violence and fear that gripped communities across North America," said Acting Assistant Attorney General Blanco.
Throughout court proceedings, the prosecution alleged that El Mochomo's operation engaged in "murders, kidnappings, tortures and violent collections of drug debts" to maintain its sprawling drug empire.
Eduardo Balarezo, Beltran Leyva's lawyer, said they would appeal the decision and described the financial penalty imposed as "ridiculous," reports Exelsior Mexico.
The investigation was led by the FBI's El Paso, Texas division with cooperation from the DEA and Homeland Security.