El Chapo's cartel may be behind deadly raid on army convoy escorting suspect in Mexico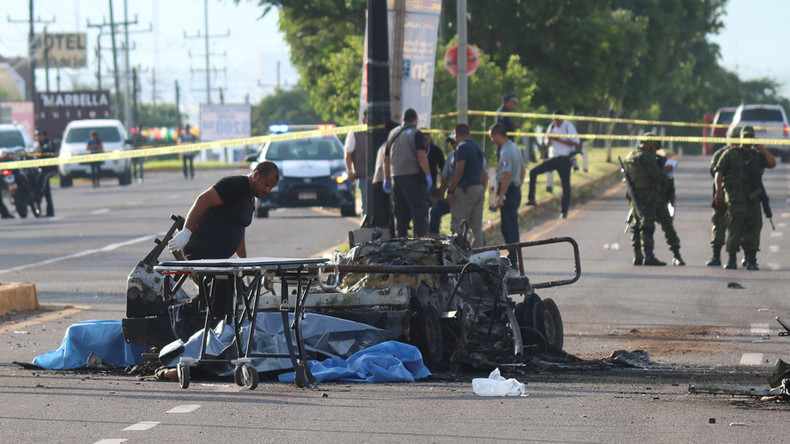 Gunmen have ambushed an army convoy in Culiacan, north-west Mexico, killing five soldiers and making off with an ambulance which was transporting an alleged organized crime figure. The cartel of by Joaquin 'El Chapo' Guzman may be behind the attack.
The 30-strong convoy was escorting an ambulance carrying a suspect injured in a shootout in nearby Baridaguato when they were attacked by a group of gunmen around 3:40am local time. Four soldiers were killed at the scene and ten others wounded, including a medic from the Red Cross. The gang torched at least one military Humvee before making their escape with the ambulance.
Read more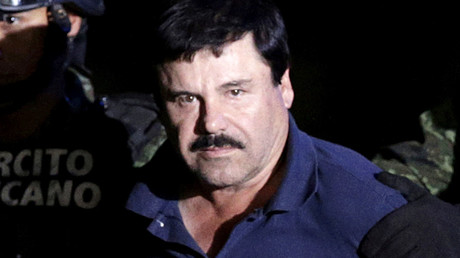 The attack was pre-planned, say the authorities.
"They were all fully armed to ambush the military," state security coordinator Moises Melo Garcia told the newspaper Milenio. "This is an unprecedented situation that hasn't happened before."
The assailants were armed with AK-47, AR-15 and Barrett M82 assault rifles, according to Garcia, and were waiting in several vehicles for the convoy to go by. After the gun battle, the troops had to wait an hour for reinforcements before they could leave the scene. The wounded are now in hospital, some in serious condition, and one other soldier has died of his wounds.
"It worries us. This was an act of cowardice," said Sinaloa Secretary-General, Gerardo Vargas Landeros, as cited by the news outlet Regeneracion.
Culiacan is the capital of the state of Sinaloa, and the headquarters of the Sinaloa cartel led by Joaquin 'El Chapo' Guzman, which controls much of the cocaine, heroin and methamphetamine being smuggled into the United States.
The injured man, who was taken by the gunmen, was identified by Mexican law enforcement as Julio Ortiz, who was allegedly involved in a conflict over control of drug fields between Guzman's brother Aureliano and Alfredo Beltran, a leader of the rival Beltran Leyva cartel. Ortiz was detained in El Chapo's hometown of Badiraguato in Sinaloa.
READ MORE: Kidnap of El Chapo's son captured on restaurant CCTV (VIDEO)
The Mexican authorities are not sure whether the attack was planned by the Sinaloa cartel, but believe this to be likely.
"We aren't sure, but it's very probable that they work for the sons of El Chapo," General Alfonso Duarte, the regional defense ministry commander in charge of Sinaloa, told reporters.
Guzman is currently in police custody awaiting extradition to the US. He was recaptured earlier this year after escaping a high-security prison in July 2015.
Mexico has been plagued by drug-related violence since the previous administration mounted a crackdown on the cartels in 2006, igniting a bitter power struggle. Around 33,000 people were killed in 2015 alone, according to estimates from the Institute for Economics and Peace, making the gang wars there a deadlier conflict than Iraq or Afghanistan.