'Depressed' Mexican drug lord El Chapo complains of 'inhumane treatment' due to lack of sleep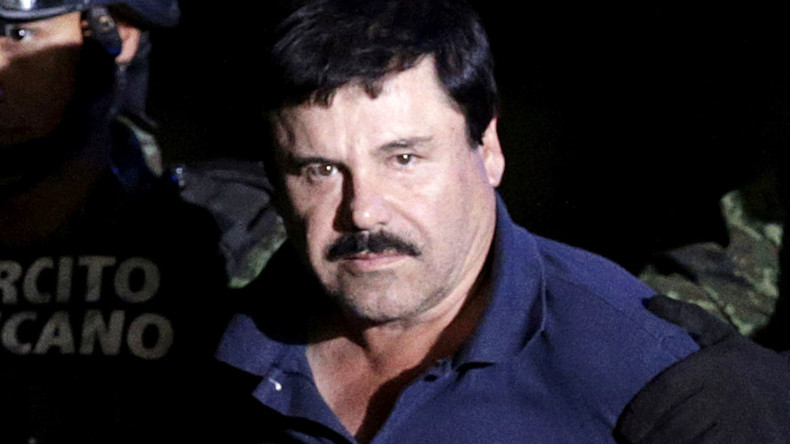 Jailed Mexican drug baron Joaquin "El Chapo" Guzman is "depressed" according to his lawyer because he can't get enough sleep. Jose Refugio Rodriguez says his client is a "victim of cruel and inhumane treatment" as he waits to be extradited to the US.
Security is tight at the maximum-security jail in Ciudad Juarez near the border with Texas, where Guzman is being held and it is understandable. The boss of the Sinaloa drug cartel has previously managed to escape from prison twice.
Read more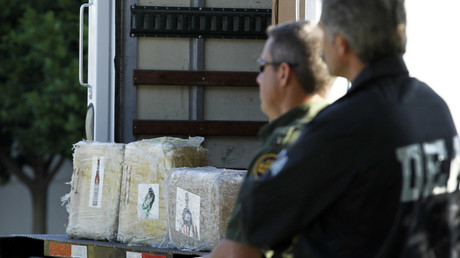 The prison guards are taking no chances and the lights in his cell are on around the clock, while he is under the constant gaze of surveillance cameras, which are monitored by staff. Guzman's lawyer Jose Refugio Rodriguez told the Washington Post that if his client covers his face, even unknowingly in his sleep, he is woken by the guards.
"The conditions that he's being held in are very drastic. He's a victim of cruel and inhumane treatment well below the minimum standards established by the United Nations," Rodriguez told the newspaper in an interview. "This is practically torture."
Guzman has a 7.4-square-meter prison cell complete with its own toilet and bed. He is allowed to watch television for an hour a day, while he is let outside to a patio area three-times a week. Despite claims from Rodriguez that Guzman is "depressed," Eduardo Guerrero Duran, the head of Mexico's prison system denies that Mexico's most notorious prisoner is in poor health.
"This person has not been segregated, nor tortured, nor have we violated any of his rights," Duran said. "We are making sure we comply with the law," the official added.
Guerrero also revealed that Guzman has been visited by his family on 13 occasions, and has even had a couple of "intimate" visits from a "concubine."
This is not the first time that Guzman has complained about the conditions he has had to endure in jail in Mexico. Before being moved to Cuidad Juarez, he was kept at the Altiplano maximum-security prison, outside Mexico City.
Read more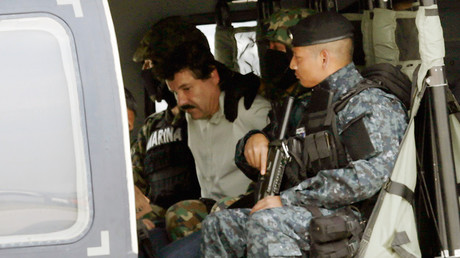 In March, Rodriguez said the conditions his client was enduring were so bad that Guzman had instructed him to broker an extradition deal with the United States, in exchange for better prison conditions in a medium-security facility and a lighter sentence.
The lawyer said he saw Guzman on March 1 when the drug lord "pleaded with me to look for the quickest way possible of processing extradition because he can no longer stand the situation he's experiencing," Rodriguez told the Mexican newspaper Reforma.
Guzman is facing a number of charges from drug trafficking to organized crime in the US, while his extradition north of the border has been approved by the Mexican authorities.
"The United States is awaiting the result of the extradition process in Mexico before making a final determination as to where Guzman Loera will be prosecuted," said Peter Carr, a Justice Department spokesman.
While Guzman was keen to head to the US a few months ago to face trial, it now appears as though the drug baron wants to stay put in his native Mexico according to his lawyer.
Rodriguez says that his client is either looking for a plea bargain, which would see Guzman serve his sentence in a medium-security jail if he cooperates with the authorities. Alternatively, he would look to be placed under house arrest, which is possible under Mexican law.
"Until we have a good agreement [with the United States], we have to keep fighting here in Mexico," Rodriguez told the Washington Post. "We have not lost."
Guzman is considered to be Mexico's top drug lord and head of the Sinaloa cartel. In 2011, he reportedly surpassed the infamous "cocaine king" Pablo Escobar, with the US Drug Enforcement Administration calling him the biggest drug lord of all time. He was wanted by Mexico, Interpol and the US, who offered a $5-million reward for any information leading to his capture.
He was first arrested in 1993 and spent almost a decade in a maximum-security prison near Mexico City before escaping in 2001. After 13 years on the run he was recaptured in 2014.
In July 2015, he escaped through a 1.5-kilometer long, 10-meter deep tunnel dug from within his cell, despite being incarcerated in the country's highest-security federal prison, while he reportedly paid as much as $50 million in bribes to facilitate his escape.
Guzman was eventually recaptured in January in the town of Los Mochis, Sinaloa, which is considered to be his heartland.