24 top gangsters in El Chapo's drug cartel busted in US-Mexico sting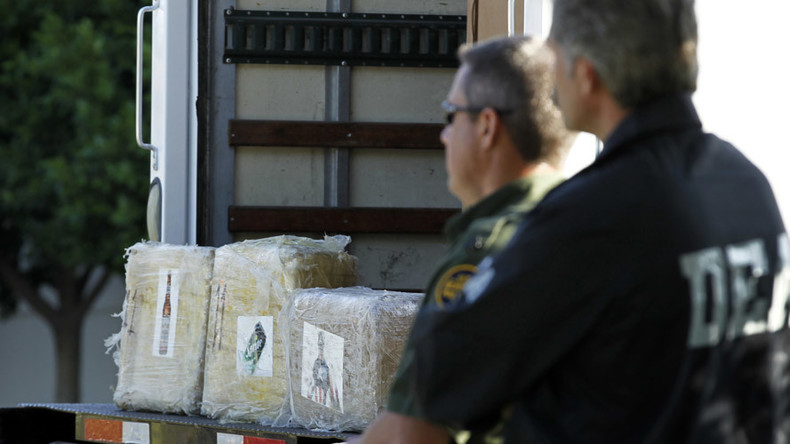 A joint cross border operation between US and Mexican law enforcement agencies has resulted in the arrest of two dozen senior Mexican drug cartel members. The raid took place in Lukeville, Arizona, on the border with Mexico.
Twenty-four members of the Sinaloa Cartel, one of Mexico's largest drug-trafficking organizations, were arrested in the secretive operation, which was carried out Friday. The authorities managed to seize hundreds of pounds of illegal drugs and several types of assault weapons.
Gillian M. Christensen, a spokeswoman for US Immigration and Customs Enforcement (ICE), which took part in the operation, revealed the results of the sting, known as Mexican Operation Diablo Express, which also involved the Drug Enforcement Administration (DEA) and the Federal Bureau of Investigation (FBI).
"The targeted Sinaloa cell has been responsible for the importation of millions of pounds of illegal drugs, including marijuana, heroin, cocaine and methamphetamine, into the United States from Mexico during its existence," Christensen said in a statement, as cited by AP.
"The organization is also responsible for the smuggling of millions of dollars in US currency, along with weapons, into Mexico," she added.
Christensen mentioned that ICE helped to keep Mexican federal police safe while they took part in the operation on US soil, while she also praised the Mexican authorities for trying to take down the cartel.
"ICE applauds the Government of Mexico for their bold action in taking down this criminal organization and for their continued pressure on the Sinaloa Cartel throughout Mexico," Christensen said.
The arrest of two-dozen high-profile members will come as another blow to the Sinaloa Cartel. Its former leader, Joaquin "El Chapo" Guzman, was arrested on January 8 in Mexico, after he had managed to escape from a high security jail in July.
The Mexican President Enrique Pena Nieto said on January 22, that his country is speeding up efforts to extradite Guzman to the US.
"The order the Attorney General's office has is to speed up its work to ensure this highly dangerous criminal is extradited as soon as possible," Pena Nieto told the World Economic Forum in Davos, Switzerland, according to Reuters.
With Guzman now back behind bars, control of the Sinaola Cartel will fall directly into the hands of 68-year-old Ismael "El Mayo" Zambada, who was described as "the patriarch" by Antonio Mazzitelli, the UN representative on drugs and crime in Mexico.
Unlike Guzman who liked the limelight, experts say that Zambada likes to keep a low profile and spends heavily on alliances with politicians and police.
You can share this story on social media: