Kidnap of El Chapo's son captured on restaurant CCTV (VIDEO)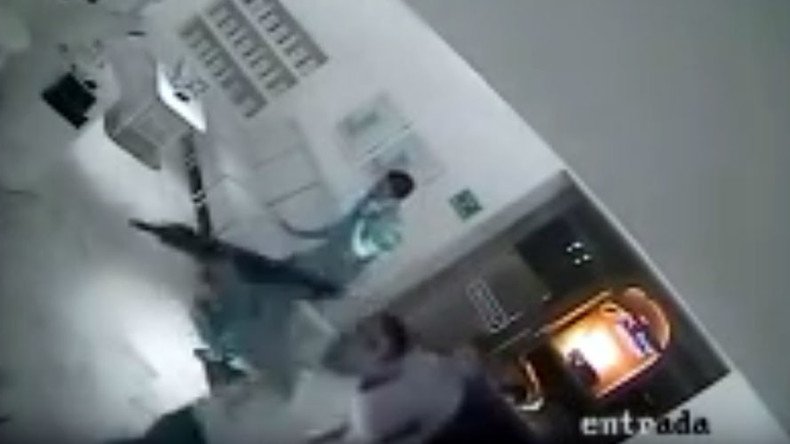 The youngest son of Mexico's notorious crime boss Joaquín 'El Chapo' Guzmán has been kidnapped at gunpoint by a rival gang, prompting fears the abduction could ignite a new cartel war.
'El Chapo' - head of the Sinaloa crime syndicate - is currently held in a Mexican prison near the US border, having been recaptured in January after seven months on the run.
But the whereabouts of his son Jesus Alfredo Guzmán Salazar is now a concern, after he was reportedly abducted from a high-end restaurant along with five others by a group of gunmen.
The Monday incident saw at least six men wielding assault rifles burst into La Leche, located in the coastal city of Puerto Vallarta and regarded as one of the top restaurants in Mexico's Jalisco State.
READ MORE: Mexico captures fugitive drug lord 'El Chapo' Guzman – president
State authorities have since confirmed that one of the men taken was El Chapo's son and believe he was grabbed by members of the Jalisco New Generation Cartel, according to El Universal. However, Mexican authorities did not confirm earlier claims that a second of El Chapo's sons was also among those kidnapped.
It's feared the abduction could prompt all-out war between two of Mexico's ultra-violent crime syndicates - the Sinaloa and Jalisco cartels - who have been locked in a bloody turf war.
Footage of the kidnapping uploaded to Youtube shows how a team of armed men moved in on diners celebrating a birthday before seemingly picking out their targets. One man making a phone call almost manages to walk away from the harrowing stick-up, but is quickly rounded-up and forced onto his knees by the armed intruders.
Eduardo Almaguer, attorney general of Jalisco, told El Universal the footage is genuine, but that it was "leaked irresponsibly."
The fate of 29-year-old Jesus Alfredo Guzman Salazar is currently unknown. However, Mexican journalist Javier Valdez suggested to El País the kidnapping could escalate the current power struggle between the two gangs and see violence "spread to parts of the country" previously free from cartel killings.
You can share this story on social media: