US deports Russian banker convicted in US spy ring
Published time: 6 Apr, 2017 02:55
Edited time: 6 Apr, 2017 14:38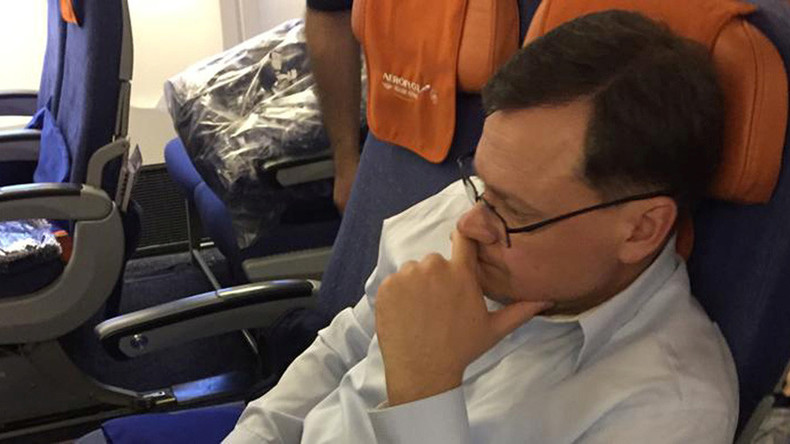 A convicted Russian agent has been granted early release from prison on the condition that he would be placed under the custody of immigration agents and deported to Russia.
On Wednesday, Immigration and Customs Enforcement (ICE) announced that Evgeny Buryakov, 42, had been escorted by Enforcement and Removal Operations (ERO) deportation officers on a commercial flight to Moscow, where they turned him over to Russian authorities.
"Removing individuals like Mr. Buryakov represents ICE's highest enforcement priority, which is protecting the national security of the United States," Rebecca Adducci, a field office director for ERO Detroit, said in the announcement.
"ICE will continue to move aggressively against those who engage in actions that could potentially compromise the security of our nation," Adducci continued.
Last March, Buryakov, also known as Zhenya, pleaded guilty to "conspiring to act in the United States as an agent of the Russian Federation, without providing prior notice to the Attorney General."
Two months later, Buryakov was sentenced to two and a half years in prison and ordered to pay a $10,000 fine. On Friday, Buryakov was released after roughly 26 months in prison due to good behavior, according to Federal Bureau of Prisons documents obtained by CBS News. As a part of his plea deal, Buryakov agreed to be deported following his release.
According to the Justice Department documents, Buryakov worked in the US for nearly four years as an agent of Russia's foreign intelligence agency, Sluzhba vneshney razvedki (SVR). He was operating under "non-official cover," meaning he entered the US as a private citizen, without disclosing his status as a Russian agent.
Under federal law, individuals acting as agents of foreign governments within the US are required to notify the US attorney general. The Justice Department says they do not have any records showing that Buryakov was working as an agent of the Russian Federation while in the US.
While Buryakov was working as a high-ranking employee in the Manhattan office of a Russian bank, Vnesheconombank, the Justice Department recorded conversations of Buryakov conspiring to gather intelligence on behalf of Russia, including information on US sanctions against Russia, and the efforts to develop alternative energy resources.
Buryakov reportedly passed the information he obtained to Igor Sporyshev, Russia's trade envoy in New York, and Victor Podobnyy, an attaché to Russia's Permanent Mission to the United Nations.
Sporyshev and Podobnyy were both afforded diplomatic immunity from arrest and prosecution and neither lives in the US anymore.
The killed attacker has been identified as Ramzan Kukulayev, a wanted criminal, TASS reported, citing police sources. Two of the injured servicemen have been hospitalized in critical condition, the agency said.
On Tuesday, Astrakhan Governor Aleksanr Zhilkin told media that the April 4 attackers were a group of Islamist extremists, following an emergency counter-terrorist meeting on the attack.