New evidence: Fla. cop knew Charles Kinsey had no gun when he shot him
Published time: 5 Apr, 2017 23:27
Edited time: 6 Apr, 2017 11:05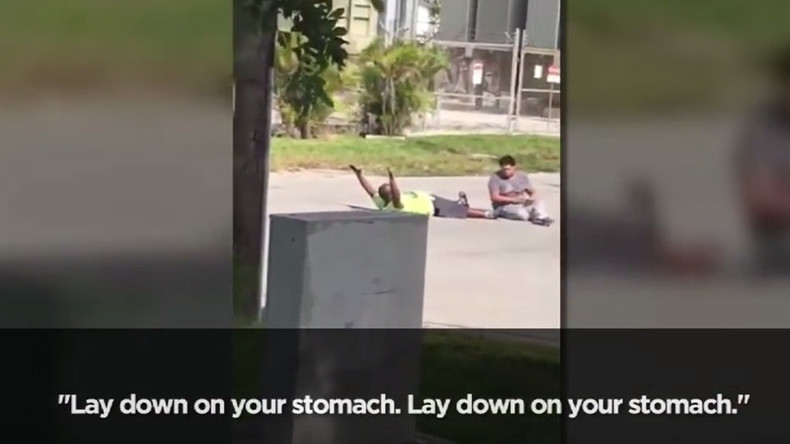 A recently released audio recording reveals the Florida police officer who shot an unarmed man who was lying on the ground last July had been told that there was no gun before he fired three times.
On Tuesday, an hour-long interview conducted by Florida Department of Law Enforcement (FDLE) investigators with North Miami Police Chief Gary Eugene was released by the Miami New Times. The interview reveals that Officer Jonathan Aledda, who shot Charles Kinsey, a behavior therapist at a mental health center, had been told that the gun on the scene was actually a toy truck.
The incident occurred last July when Arnaldo Rios, a 23-year-old man with autism, ran away from a local group home. Kinsey went to bring Rios back when they were confronted by Miami-Dade police officers, who ordered the two men to get on the ground.
Cell phone footage of the event shows Kinsey complying with police, and repeatedly trying to explain the situation to Rios. When Rios did not follow police orders to lie down, a Miami officer shot three times, striking Kinsey in the leg with an assault rifle.
Eugene suspended Aledda from the force with pay, however, he was not charged in the incident.
Aledda defended his actions by saying he was aiming for Rios, who thought the toy he was holding was a gun. However, eight months after the shooting and four months after state investigators closed their probe into the situation an interview with Eugene revealed that Aledda knew Rios and Kinsey were both unarmed when he fired.
In the interview, Eugene described listening to audio recordings of the police before the shooting.
"I heard the shooter, Officer Aledda, make a statement to the nature of 'Be advised, I have clear shot [of] subject,'" Eugene said. "Later on, a sergeant... got on the air and said, 'I have a visual; it is a toy. Is it a toy? QRX.' That means 'Stand by; don't do anything.' Then there is a conversation back and forth. The next transmission was by [another officer saying] 'Shot fired!'"
Eugene says that officers also attempted to stop Aledda from firing at the unarmed men.
"I heard the sergeant, who advised earlier that it was a toy, say, 'Hold fire! Hold fire! It was a toy,' trying to stop whoever was doing the shooting," Eugene said.
After the shooting, Eugene described the scene where Kinsey was shot as a "mess."
"The scene wasn't well prepared. There was no inner perimeter, no outer perimeter, no media staging area, nothing," Eugene said in the interview. "People were walking all over the place. Thank God [Kinsey] did not die."
Eugene, who had been sworn in as chief only six days before the Kinsey shooting, also described infighting that was so bad he was worried officers would not be willing to protect one another, let alone the public.
"I'm afraid one of them will get shot, for God's sake, and someone will call for backup and they'll say, 'I'm not going,' just to tell you how much the animosity is," Eugene said.
Miami-Dade State Attorney Katherine Fernandez Rundle has not filed any charges against Aledda or any other officers involved in the shooting. However, Emile Hollant, a North Miami Police commander who was present at the scene, was suspended without pay for lying to Eugene after the shooting.
According to Eugene, Hollant told him that he did not witness the shooting, while the police tapes proved he was there. Hollant is currently suing the city over his firing.
When asked why no one has been charged with a crime, Ed Griffith, a spokesperson for Rundle's office, said they were "very close to coming to a decision," according to the Miami New Times.