Federal bill set to provide mental health services for exiting prison inmates
Published time: 4 Apr, 2017 21:56
Edited time: 5 Apr, 2017 10:24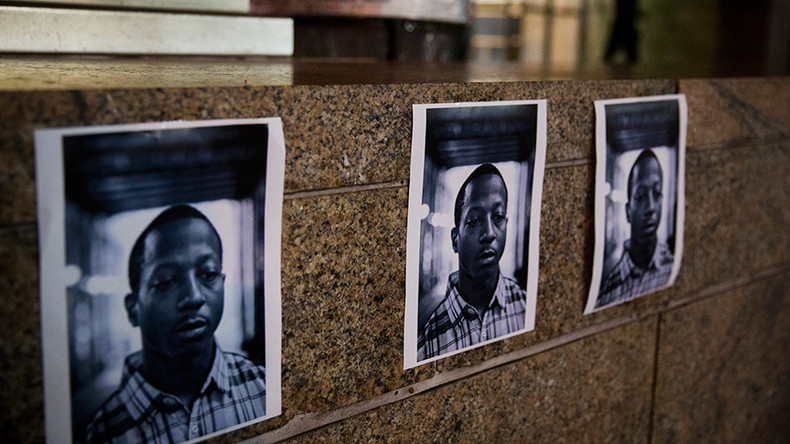 A new bill, introduced by a New York congressman, would provide mental health services for those reentering society after jail. The bill comes as New York lawmakers are considering closing Rikers Island, a prison with a controversial history of abuse, brutality and even death.
"Our bill goes beyond jail and prison. What goes on in prison today is that 50 percent of male and 75 percent of female inmates in state prisons, and 75 percent of female and 63 percent of male inmates in jails, will experience a mental health problem requiring services in any given year. That's even more important when they're released," bill sponsor Congressman Joe Crowley (D-New York) told RT.
"Are they getting the proper treatment in prison or in jail? And then they are released are they being followed up on? And are they being watched?" Crowley added.
The Kalief Browder Re-Entry Success Act is named for a Bronx teenager who was incarcerated for three years in Rikers Island while awaiting trial, spent two years in solitary confinement and then committed suicide after his release.
"In this particular case, we saw that wasn't happening and Kalief further deteriorated to the point that he attempted to take his life multiple times in Rikers, and then afterwards we found out later he was severally damaged because of his experience there only hurt his mental health more and eventually led to him taking his own life," Crowley said.
Under the legislation, state and local prisons would compete for five grants in a pilot program, run by the Justice Department, which would provide funding over two years to offer mental health and other social services to exiting inmates.
Browder's death was the focus of a New Yorker story in 2014 and a new documentary produced by rapper megastar Jay Z. His case has subsequently become a rally cry for prison reform.
Crowley said "regardless of what people think of people in jail or in prison, when they are reintroduced into society it is in all of our interests that they are healthy and they are acclimated and they become part of society in a positive way. And those efforts fall short."
Crowley said his bill grew out all that was being done to try and address the Browder tragedy. At the city level, lawmakers made bond more accessible to poor people, and began addressing whether Rikers jail should remain open or not.
Rikers jail has seen a steady decline of its prison population, now down to 9,000 inmates, on a large city island including separate sites for men's, women's and juvenile prisons.
"The level of deteriorated at the facilities themselves; they're aging, and the older they get, the less manageable they are and the less humane they are," Crowley told RT. He visited the Rikers high security prison three or four years ago.
Crowley said he has talked about his bill with Rep. Sheila Jackson Lee (New York), and Senator Rand Paul (R, Kentucky) has expressed general support for a bipartisan package of criminal justice reform.
The bill comes with a price tag of $20 million at a time with the Trump administration is making deep cuts at government agencies. Crowley thinks it is a drop in the bucket.
"I think what is really more important is if we fail to do this what impact will we have," he said.
For decades, the Rikers jail has been marked by violence and corruption, with stories regularly emerging documenting abuse, brutality and even death at the institution. The #CLOSErikers campaign was formed in 2016 to break the political gridlock over the prison conditions and 135 organizations joined the call to close Rikers Island.
New York City Council commissioned a 27-person panel to make recommendations about whether closure was feasible.
"Rikers is a mass incarceration model that stains everything that it touches," said former New York State Chief Judge Jonathan Lippman, who led the panel which produced the report. "Rikers is by any standard a penal colony."
The panel proposes replacing the facilities on Rikers with several smaller jails, one in each of the five boroughs that are closer to courtrooms. The plan is expected to take 10 years and cost an estimated $10.6 billion, according to the report. New York's Mayor endorsed the plan on Friday.
New York City's Public Advocate Tish James on Sunday pressed for renaming Rikers Island after Browder if the prison is closed.
"It's really appreciative and thoughtful," his older brother Akeem Browder told the Daily News. "But it's something we'd have to think over. The people should have this victory.... Maybe people will look at the Kalief Island, if they want to dub it that, and remember the tragedy that my brother went through."