ICE releases DACA recipient after over 6 weeks of detention
Published time: 30 Mar, 2017 03:57
Edited time: 30 Mar, 2017 11:04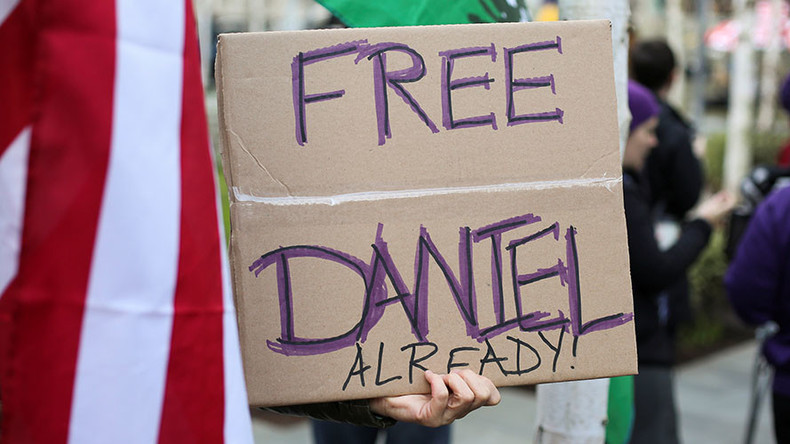 A 24-year-old Mexican "dreamer" arrested by Immigration and Customs Enforcement has now been released after posting a $15,000 bond. The undocumented immigrant accused of gang ties has been in detention for 46 days.
Daniel Ramirez Medina was released Tuesday after being detained for more than six weeks, despite having papers that authorized him to live and work in the US through the Deferred Action for Childhood Arrivals (DACA) immigration executive order.
DACA, which was established in 2012 under former President Barack Obama, offers immigrants who were brought into the US as children some protections from deportations and the ability to work in the country under certain circumstances.
Immigration Judge John Odell granted bond after Ramirez spent 40 minutes answering questions from prosecutors about his alleged connections with gangs, which he repeatedly denied.
"He answered every question the government put to him," said Mark Rosenbaum, one of Ramirez's lawyers, according to the Associated Press. "He stayed true, and the government had no evidence whatsoever."
"We're thrilled he's getting out of a facility he never should have been in in the first place. But he's lost 45 days of his life," Rosenbaum continued. "He's been vilified by the government."
As he left the detention center in Tacoma, Washington, Ramirez was greeted by supporters and family members in the parking lot.
"This has been a long 46 days, but I'm so thankful for the support that I've gotten from everyone who helped me and for the opportunity to live in such an amazing country," Ramirez said in a statement.
"I know that this isn't over, but I'm hopeful for the future, for me, and for the hundreds of thousands of other Dreamers who love this country like I do," he continued.
Ramirez was arrested on February 10, during a raid by ICE agents targeting his father. When agents noticed Ramirez had a tattoo resembling one worn by gang members, they arrested him too.
Attorneys argue that ICE agents misinterpreted the tattoo, which says "La Paz BCS," an homage to the city where he was born.
After his arrest, ICE agents say Ramirez admitted that he was previously in a gang, which would have disqualified him from any protections offered under DACA. While he was detained, immigration officials revoked his protected status through DACA and began deportation proceedings against him.
His arrest shocked immigrant rights groups, as Ramirez had passed two background checks and had no criminal record other than being brought to the US when he was only seven years old. Roughly 750,000 undocumented immigrants in the US were brought to the country as children and given protections to live and work under DACA.