FBI wiretapped Trump Tower in search of 'Russian mobster' – report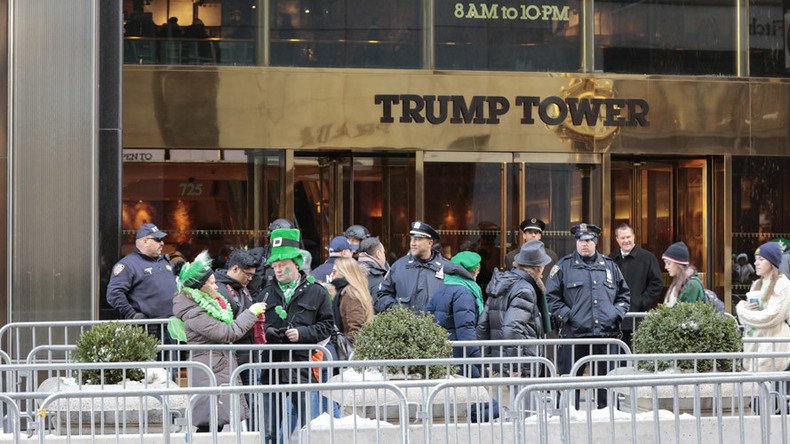 The FBI did spy on Donald Trump's flagship high-rise in New York while looking for Russians, but the operation took place four years ago and not during the 2016 presidential campaign, according to a report by ABC News.
Federal agents spied on what they described as an "international money laundering, sports gambling and extortion ring" that operated out of unit 63A in Trump Tower between 2011 and 2013, ABC News reported Tuesday. The surveillance resulted in more than 30 indictments in April 2013.
The apartment used by the suspects was just three floors below Trump's own penthouse residence, but the FBI investigation did not implicate or involve the real-estate tycoon who would go on to become the 45th US president, according to ABC.
Rather, the investigation focused on Trump Tower resident Vadim Trincher, who eventually pleaded guilty to racketeering charges and is due to be released from prison in July.
The ultimate target of the FBI operation was Alimzhan Tursunovich Tokhtakhounov, also known as "Taiwanchik," suspected of bringing into the US more than $50 million in profits from illegal gambling. The money came from Russia, Ukraine and other countries, and was laundered through shell companies and banks based in Cyprus, Mike Gaeta, the lead agent in the FBI probe, told ABC in 2014.
The Uzbekistan-born mobster had already been indicted for trying to fix figure-skating competitions at the 2002 Winter Olympics in Salt Lake City, Utah. Tokhtakhounov escaped arrest, however, and has not been caught since despite Interpol's "red notice."
Earlier this month, President Trump accused his predecessor of having Trump Tower under surveillance during the 2016 election campaign, describing the affair as "Nixon/Watergate" and "McCarthyism." Obama dismissed the allegation as untrue, as did multiple officials from his administration.
The House and Senate intelligence committees said they had not received any evidence showing a wiretap of Trump Tower, though they did not rule out the possibility of other forms of surveillance. While the White House maintains that Trump's accusations are correct, major US media are openly calling them false.
You can share this story on social media: