'This is McCarthyism!' Trump accuses Obama of wire tapping Trump Tower before election win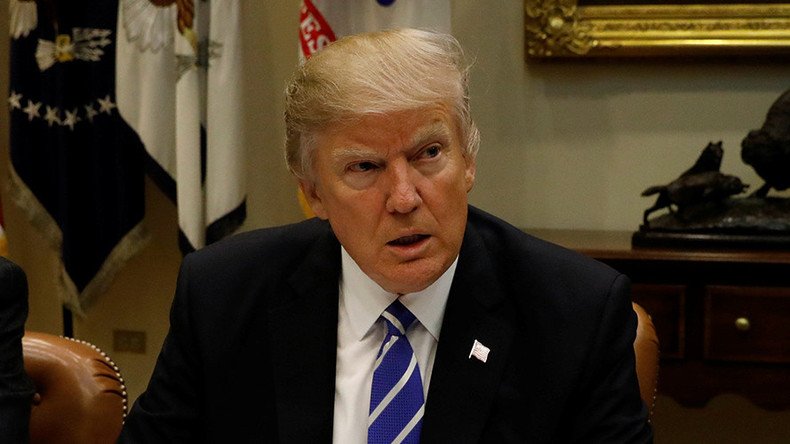 US President Donald Trump has accused his predecessor Barack Obama of "wire tapping" Trump Tower just before his election win in November, according to his latest tweet.
Trump made the accusation in a tweet decrying the alleged surveillance as "McCarthyism."
Obama spokesman Kevin Lewis denied Trump's allegation, according to Reuters, saying: "A cardinal rule of the Obama administration was that no White House official ever interfered with any independent investigation led by the Department of Justice."
"As part of that practice, neither President Obama nor any White House official ever ordered surveillance on any US citizen," Lewis added. "Any suggestion otherwise is simply false."
The US president has not provided any further details on the alleged 'wire tapping' or how he was informed about the reported activity. However, Trump indicated in a subsequent tweet that legal action on the issue is a possibility.
Obama's office did not immediately respond to a Reuters' request for comment about the accusations.
Former Deputy National Security Adviser for Obama Ben Rhodes responded to the tweets by dismissing Trump's accusation, saying on Twitter that "no president can order a wiretap."
Obama admin 'set up first Sessions-Russia meeting'
In an earlier tweet sent by the president Saturday morning, Trump addressed the ongoing controversy surrounding Attorney General Jeff Sessions, who has been accused by US media of failing to disclose during his confirmation hearing meetings with Russian Ambassador to the US Sergey Kislyak.
Sessions has denied any wrongdoing in meeting with the Russian ambassador, saying this was unrelated to the presidential campaign, and has recused himself from any investigations into the Trump campaign.
READ MORE: Sessions recuses himself from Trump probes, rejects perjury claims
On Saturday, Trump blamed the Obama administration for the "first meeting" between Sessions and the Russian ambassador.
Trump then went on to state that Kislyak visited the White House during Obama's reign a total of 22 times, including four last year.
READ MORE: Trump tries to reverse 'Russia ties' claims on 'hypocrite' Schumer
Trump's former national security adviser, Michael Flynn, resigned from office last month after he allegedly failed to disclose the entirety of his conversation with Kislyak to US Vice President Mike Pence.
You can share this story on social media: