Bill aims to outlaw future military photo scandals as NCIS works to identify Marines United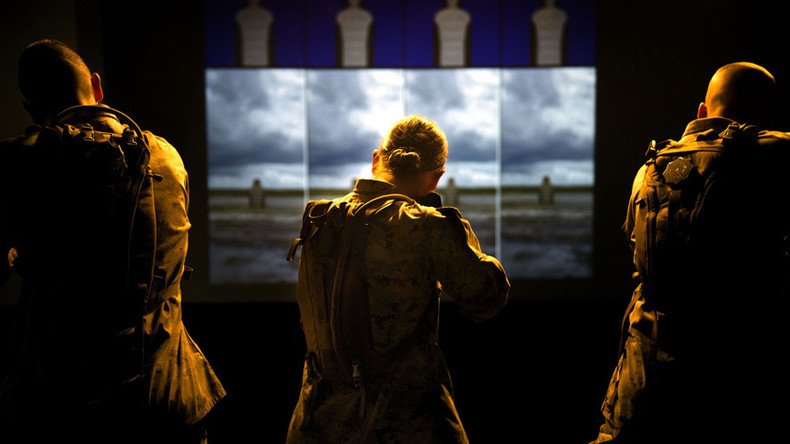 A lawmaker has introduced a bill that would prohibit members of the military from sharing intimate pictures without consent, as investigators have begun identifying the members of the Marines United Facebook group that shared nude photos.
On Thursday, Representative Jackie Speier (D-California), introduced the Service Members Intimate Privacy Protection Act to update the Uniform Code of Military Justice (UCMJ) in response to the Marines United nude photo scandal. Speier is the ranking member of the Armed Services subcommittee on military personnel.
The bill would allow service members to be court-martialed if they publish images or videos of another adult who is identifiable and engaged in a sexual act or undressed that "a reasonable person would know or understand that the image was to remain private," and knew or "reasonably should have known that the person depicted… has not consented to" its distribution.
"I am furious, I am saddened and I am frustrated by how we have got to this point," Speier told reporters. "Clearly the antiquated language of the UCMJ must be fixed to address this national scandal and to restore the reputations of not only our brave service members, but the Marine Corps itself."
The current language of Article 134 of the UCMJ would allow for the prosecution of any current service members who shared nonconsensual pornography, but not those who uploaded pictures where the women allowed the photos to be taken but did not consent to have them shared.
The military can, however, use state of federal law to prosecute troops, but the only one that might apply is a North Carolina statute that requires prosecutors to prove the "intent to coerce, harass, intimidate, demean, humiliate, or cause financial loss to the depicted person," according to a fact sheet provided by Speier.
While intent is notoriously difficult to prove, it is likely that potential prosecutors will point to the statements a spokesman for Marines United made to the Daily Beast, arguing that the scandal proves women should not be allowed to join the infantry.
Marshall Chiles, who served on active duty for six years, told the Daily Beast that the sharing of nude photos within the private Facebook room was a form of social validation, not actual malfeasance.
"The Marine Corps is supposed to go out and win wars, being the front line of defense for America," he said. "So why should would we integrate women when we know it's going to happen and it's just going to continue to be a huge distraction?"
There are more than 180,000 active-duty Marines, about 8 percent of whom are female. The hundreds of victims of the photo-sharing scandal are reportedly a combination of troops, veterans and civilians. Many haven't come forward, but noted feminist attorney Gloria Allred, who represents some of the victims, called on Congress to hear from the women themselves.
One of Allred's clients, Erika Butner, who served five years in the Marine Corps, told CBS News correspondent Jan Crawford that she had told the military about the Google share drive of photos in January, but received no response until the story broke, thanks to a Marine veteran and blogger who reported on it. Since then, the veteran has been subjected to death threats, while his family has faced rape threats, according to Speier.
"This runs so prominent in the military that it needs to be fixed, and that's why I'm here, because I want this to change," Butner said. "I want some young female Marine to be able to stick up for herself the next time this happens because it will happen again."
"How are you supposed to trust these people that you potentially could be going to combat with when they're objectifying you and sexualizing you and targeting you?" she added.
Investigators are working to identify the 500 or so of Marines United's roughly 30,000 members who viewed the pictures. So far, the Naval Criminal Investigative Service (NCIS) has identified 1,200 of the members, including 700 active-duty Marines and 150 Marines in the Reserve, Speier said.
Retired Colonel Don Christensen ‒ a former Air Force chief prosecutor and president of Protect Our Defenders, an organization dedicated to ending rape and sexual assault in the military and to combating a culture of pervasive sexual harassment and retribution against survivors and whistleblowers ‒ called on Congress to pass the bill and "bring an end to this scourge."
"This conduct strikes at the heart of good order and discipline and fuels the misogynistic culture that is ripping at the fabric of the military," Christensen said. "Unfortunately, the UCMJ does not currently criminalize what is commonly referred to as revenge porn, and this makes it difficult to hold offenders accountable."
One issue that Speier's bill doesn't address is that the UCMJ only applies to active-duty troops and reservists, leaving some 350 veterans identified by NCIS immune from military courts, even if the legislation were to pass.
"We must do everything we can to provide survivors with the support they need and deserve while also ensuring that the perpetrators who are not be covered by this bill are drummed out of the service. Nothing less is acceptable," Speier said.
In the meantime, the Marine Corps is moving to address the scandal. The branch is reviewing its recruit training, and has released new social media guidelines aimed at reining in harassing and abusive activity.
You can share this story on social media: