Republicans introduce bills authorizing new military force against ISIS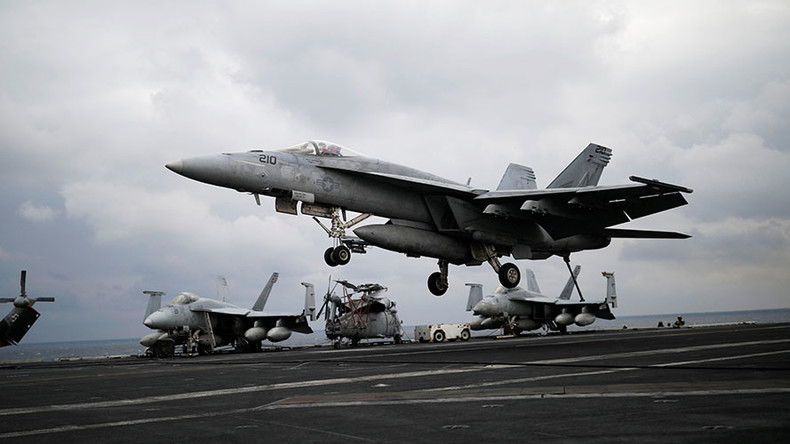 A new House bill was introduced that would create a new Authorization for Use of Military Force (AUMF) against Islamic State and repeal AUMFs passed after September 11, 2001. A companion bill was introduced in the Senate last week.
"The Constitution grants Congress the power of declaring war, and we need to take that obligation seriously," House Representative Jim Banks said in a statement on Wednesday.
"Rather than continuing to fight ISIS under an authorization passed by Congress in 2001 to fight Al-Qaeda, it is time to pass a new authorization for the use of military force against ISIS. Congress should take a fresh look at the scourge of ISIS and evaluate the best strategy to defeat these radical extremists."
The new bill would include the fight against ISIS in the resolution. Senator Todd Young (R, Indiana) introduce a version last week.
A background note sent with Banks' statement on the bill states: "The AUMFs from 2001 and 2002 are overly broad, authorizing our troops to go to war with affiliates of any entity that contributed to the terrorist attacks on 9/11. While some legal scholars and Middle East experts argue that al-Qaeda evolved into ISIS, and therefore, the old AUMFs are still valid, the broad scope of the existing law needs to be revised as they are 15 years old and ISIS did not even exist as an organization when the old AUMFs were originally passed."
The note also states that only 25 percent of the current members of Congress in the House and Senate were present when the current AUMFs were passed.
"As such and as the President considers increases in military action, Congressman Banks wants Congress to lead in the conversation about going to war against ISIS, instead of merely paying the bill for the war."
Most on Capitol Hill agree that a new war authorization would send a clear signal to the troops that the country supports their mission, but Republicans and Democrats have been unable to move a plan forward for more than two years.
Former US President Barack Obama sent a request to Capitol Hill in February 2015, but Republicans said it tied the hands of a commander-in-chief who should have every tool at his disposal, while Democrats worried it was too broad and could become a blank check.
The new legislation would allow the US to detain members of terrorist groups.
It would also require President Donald Trump to submit to Congress a comprehensive plan to defeat Islamic State (IS, formerly ISIS/ISIL) within 30 days of signing the bill into law – a requirement that mirrors an order the president issued at the end of January, tasking military and security leaders to create a plan to defeat ISIS within 30 days. Details of the plan have not been disclosed publicly.
Accompanying his budget request issued on Thursday, President Trump asked Congress to provide the Department of Defense with an additional $30 billion to "rebuild the US Armed Forces and accelerate the campaign to defeat the Islamic State of Iraq and Syria…"
The request includes $5.1 billion in the "Overseas Contingency Operations budget for DOD to accelerate the campaign to defeat ISIS and support Operation Freedom's Sentinel in Afghanistan. This request would enable DOD to pursue a comprehensive strategy to end the threat ISIS poses to the United States."
Even without a new AUMF, the US military has been expanding its fight against ISIS.
The Pentagon is planning on deploying 1,000 more troops to Syria to help in the offensive against the ISIS stronghold of Raqqa, the Washington Post reported, potentially doubling the number of US ground forces in the country.
In Iraq, government forces aided by US air power have nearly retaken Mosul.
Also last week, the US military said it had deployed roughly 100 troops around the Syrian city of Manbij to mitigate skirmishes between two opposing forces – the Kurds and Turks.
The Pentagon said on Monday the troops had been successful but could not say how long they would remain in Manbij.
In an interview last week with Phoenix TV, a Chinese media outlet, Syrian President Bashar Assad called the US military "invaders" of Manbij.

"Any foreign troops coming to Syria without our invitation or consultation or permission, they are invaders, whether they are Armenian, Turkish, or any other one," Assad said, according to BuzzFeed.
"And we don't think this is going to help. What are they going to do? To fight ISIS? The Americans lost nearly every war. They lost in Iraq, they had to withdraw in the end. Even in Somalia, let alone Vietnam in the past and Afghanistan, your neighboring country. They didn't succeed anywhere they sent troops – they only create a mess."
Officially, there are 503 US troops in Syria, according to the Pentagon, largely Special Forces operators who have been training local opposition troops.
Last week, General Joseph Votel, the head of Central Command, told Congress that the Pentagon would probably need more troops in Afghanistan.
The US has appropriated over three-quarters of a trillion dollars on Afghanistan since 2001. Over the past 15 years, nearly 2,400 American soldiers have died, and 20,000 more have been wounded.
A White House report released in December showed the broadening use of war powers in the fight against Al-Qaeda beyond military operations in Afghanistan, Iraq, and Syria.
The 60-page report and accompanying letter shows deployments in over a half a dozen areas, including Somalia, Yemen, Jordan, Niger, Cameroon, Central Africa, the Red Sea, and South Sudan – involving troops on the ground, regular airstrikes, and surveillance efforts, all in the name of counter-terrorism.