In Michigan, Trump promises return to manufacturing glory (VIDEO)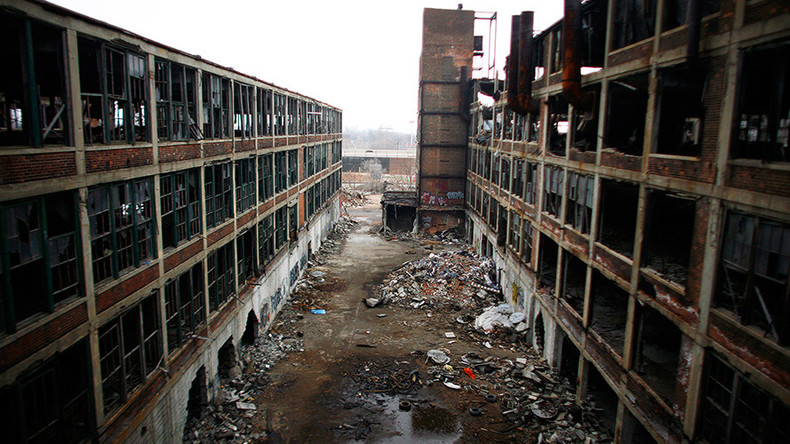 America will be the "car capital of the world" again, President Donald Trump told auto workers in Michigan, repeating his message of economic nationalism while promising to review emission standards imposed by the Obama administration.
"We want to be the car capital of the world again, and we will be!" Trump told the crowd at the American Center for Mobility in Ypsilanti, a city just west of Detroit and home to a facility that built B-24 Liberator bombers during the Second World War.
"The era of economic surrender by the US is over," the president added, bringing up the loss of a third of US manufacturing since the North American Free Trade Agreement (NAFTA) went into effect, and the closure of 60,000 factories since China joined the World Trade Organization.
"Who's making these deals?" he asked, accusing the previous administrations of selling out American workers in order to be liked by other countries. "They don't like us," Trump said. "They think we're stupid people."
The crowd broke out in cheers when Trump announced he would cancel the Obama administration's "eleventh-hour" executive decision to impose ambitious Corporate Average Fuel Economy (CAFE) emissions standards that were set "way into the future."
Under the previous president, the Environmental Protection Agency set CAFE standards that aimed at fuel efficiency of 54.5 miles per gallon on average, for cars and trucks made between 2017 and 2025. Instead of a promised mid-term review, the EPA decided to keep the rules in place during the last week of Barack Obama's presidential term.
Trump also teased a "big announcement" about the automotive industry to come next week but declined to even hint at what it might be.
"Join me in daring to believe that this facility, this city, and this nation will once again shine with industrial might," Trump said. "I'm asking you to place your faith in the American worker and these great American companies."
Later on Wednesday, Trump is scheduled to meet the mayor of Flint, Karen Weaver, to discuss the lingering water crisis, before taking off to Tennessee for a rally in honor of President Andrew Jackson's 250th birthday.