US congressman defends warning against populating America with 'somebody else's babies'
Published time: 14 Mar, 2017 01:35
Edited time: 14 Mar, 2017 09:34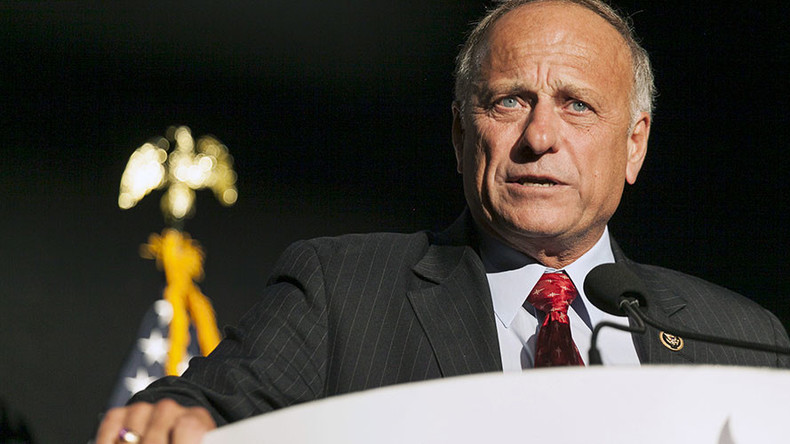 Backlash over a controversial retweet isn't stopping Republican Congressman Steve King of Iowa from doubling down on his concern over immigrants altering America's culture.
The original post King retweeted, from an account called Voice of Europe, reads, "Hundreds of Islamists shouting 'Allahu Akbar' in Rotterdam, the Netherlands. Wilders is right for over 10 years."
The tweet refers to and also includes an image of far-right Dutch politician Geert Wilders plugging a hole in a wall labeled "Western Civilization," while Muslims protest behind him with signs that read, "Infidels, Know Your Limits" and "Freedom of Speech Go To Hell."
On Sunday, King, the vice-chairman of the House Subcommittee on Immigration, retweeted the post and included his own message: "Wilders understands that culture and demographics are our destiny. We can't restore our civilization with somebody else's babies."
On Monday, King went on CNN to defend his tweet, telling host Chris Cuomo, "I meant exactly what I said."
For the past 10 years, King claimed, he has been warning Europe to keep their birth-rate high, otherwise, he says, "Europe will be entirely transformed within a half-century or more."

Cuomo asked how King could apply the same kind of thinking to America without sounding like he was advocating a "white cleanse" of the American population. While King said that he would like to see "an America that's so homogenous that we look a lot the same from that perspective," he also says that American culture is under attack.
King claims that liberals are trying to "break down the American civilization and the American culture and turn it into something entirely different."
King said a major part of the problem comes from a high number of abortions, which has caused America to "replace that void" with immigrants.
"That's the push to bring in much illegal immigration into America, living in enclaves, refusing to assimilate into the American culture and civilization," King said.
King's comments caused a frenzy among those on the left and right, many of whom called on him to step down or be replaced.
King's tweet was praised by Richard Spencer, the president of The National Policy Institute, who said that King's comments were controversial, "precisely because they are true."
King also saw support from David Duke, the former grand wizard of the KKK, who called on his followers to move to King's district.
On Monday, Jeff Kaufmann, the chairman of Iowa's Republican Party, released a statement saying that Duke is not welcome in Iowa.
"I do not agree with Congressman King's statement. We are a nation of immigrants, and diversity is the strength of any nation and any community," Kaufmann said.