US shows solid job gains in first full month of Trump administration
Published time: 10 Mar, 2017 17:44
Edited time: 11 Mar, 2017 13:17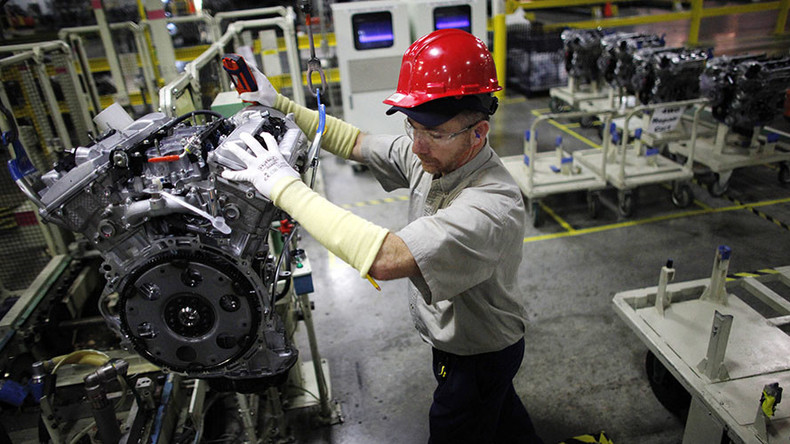 US employers added 235,000 new jobs in February and raised pay, making it all but certain that the Federal Reserve will increase short-term interest rates next week. The gains mark the first full month under President Donald Trump.
The 235,000 new jobs followed a 238,000 rise in January that was more than previously estimated, a Labor Department report showed Friday. The unemployment rate dipped to a low 4.7 percent from 4.8 percent, with wages growing 2.8 percent from February 2016.
Last month's hiring was boosted by 58,000 additional construction jobs, the most in nearly a decade. US builders are breaking ground on more homes, and factory production has recovered from an 18-month slump, fueling growth and hiring.
In February, manufacturing expanded at the fastest pace in more than two years, according to AP. Business have stepped up their purchase of industrial equipment, steel and others metals, and computers.
Trump took credit for the strong jobs report on Twitter, retweeting a story from Bloomberg about "consumer comfort" levels among Americans reaching their "highest level in a decade."
Hiring over the past two months has averaged 237,000, up from last year's monthly average of 187,000. Business confidence has risen since the presidential election, with many executives saying they expect faster economic growth to result from Trump's promised tax cuts, deregulation and infrastructure spending. The stock market has been showing record returns.
"This is clearly a Trump rally, a rally based largely on the idea that Washington is going to come through with giant tax cuts for corporations, infrastructure spending, all of this stimulus coming down the pike line. So essentially corporations are going to be more profitable because they are going to be taxed less so stock prices go up," Ben White of Politico told WNYC.
"The question I have whether this is based on reality or whether it is a bit of a fantasy. The administration said it can get a huge tax cut done by August. That's a big leap. There is a lot to do before now and then and I personally believe this rally has gotten a little ahead of itself."
At the Federal Reserve's policy meeting next Tuesday and Wednesday, the Fed is likely to raise interest rates for the third time since the recovery. The unemployment rate is at a level federal officials consider to be full employment. The labor-force participation rate increased to 63 percent.
"We've seen a Trump rally but let's think about where the markets were a year or two before this… I think they have been disconnected for some time from main street fundamentals. Investors have been saying for the last two, three years they are expecting a correction of some kind because earnings are really tapped out and nothing has really changed in the main street economic story," Rana Foroohar, global business columnist at the Financial Times, told WNYC.
"I think the markets are waiting not just for tax cuts but tax repatriation. This idea that companies may be able to get a one-time chance to bring all that offshore money they've been hoarding overseas… in cheaper tax havens. Bring that back, which is something Trump and many Republicans would like to see."
Foroohar said the question becomes what happens after that. For corporations you will get a lot of buybacks over the next 18 months.
"What then? If you don't see the real main street recovery, the infrastructure projects, changes in healthcare, then you will see markets correcting," she added.
The US economy is also benefiting from steadier economies overseas. Growth is picking up or stabilizing in most European countries as well as in China and Japan.

"The biggest companies are multinationals. They get half their revenue from abroad. It is a global story," said Foroohar. "The fortunes of American companies have become very disconnected from the fortunes of America as a whole as a nation, particularly of American consumers and workers."
In January, Americans bought homes at the fastest pace in a decade despite higher mortgage rates. That demand has spurred a 10.5 percent increase in home construction in the past 12 months.